Tax cut package: Is it worth the cost?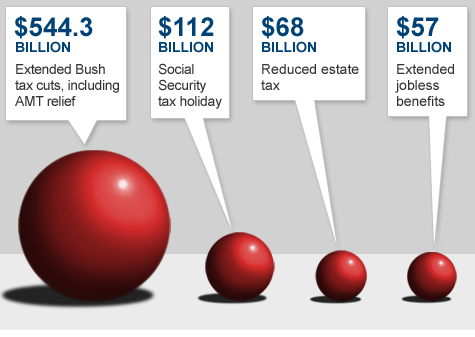 NEW YORK (CNNMoney.com) -- The controversial tax cut compromise between President Obama and the Republicans was passed largely intact by both the House and the Senate, even though everybody dislikes at least some big piece of it.
Politically, of course, the compromise worked because everybody got at least something they wanted.
That's how the sausage got made. But in the end, will it prove to be good policy?
Will a package of widespread temporary tax cuts, extensions of unemployment benefits and new tax breaks be worth $858 billion of additional debt?
Stimulus vs. debt
The package could boost the economy in 2011 by an additional half- to full-percentage point above previous lackluster growth forecasts, according to a number of economic estimates.
"Job growth will be more than twice as strong, with payrolls growing by 2.6 million," Moody's Economy.com founder Mark Zandi wrote in an analysis last week. The bill will shave more than a point off the unemployment rate, pushing it "well below 9%" in 2011, according to Zandi.
"In all likelihood, the economy would have made it through next year without falling back into recession, but this compromise improves those odds significantly," he wrote.
While the United States cannot grow its way out of debt, even the staunchest deficit hawk says economic growth will be a key component in reducing debt.
So debt incurred to gin the economy -- if it succeeds in doing so -- may be money well borrowed.
But too much debt can hamper economic growth.
While the cost estimate of the compromise is $858 billion, the bill's critics worry that the long-term costs could grow much larger.
Their reasoning: Any effort to let the temporary tax cuts expire in the future will be vilified as "tax increases" in 2012, a presidential election year.
Furthermore, deficit hawks are very disappointed that the package wasn't paired with a plan for long-term fiscal restraint. Or even just a plan to pay for the package's provisions after the economy is on stronger footing.
They're not alone.
On Monday, the credit ratings agency Moody's said, "the negative effects on government finance are likely to outweigh the positive effects of higher economic growth. Unless there are offsetting measures, the package will be credit negative for the U.S. and increase the likelihood of a negative outlook on the U.S. government's Aaa rating during the next two years."
Kicking the can ... again
So if the new test for good policy is tough tradeoffs -- necessary measures to bolster the economy now in exchange for belt-tightening later -- the tax cut deal moving through Congress fails.
A new study from the Congressional Budget Office quantified the cost to the economy if lawmakers postpone implementing measures to curb debt from 2015 to 2025. During that time, debt will have climbed about 40 percentage points higher as a share of the economy.
Money available for private-sector investment would be reduced by up to 18% because more people would invest in government debt instead, the CBO estimates. That, in turn, would result in lower wages paid to workers and a reduced labor force.
As a result, the country's output would fall by as much as 7%, and consumption along with it by up to 5.5% relative to where they would be if Congress took action a decade earlier.
In addition, the government would have scarce few resources to address unexpected disasters or economic downturns, and far less money to fund many basic government programs.
Some signs suggest that lawmakers may not wait until 2025.
President Obama's debt commission put forth a serious plan to reduce federal debt over the next 10 years. And a large component of that plan was tax reform, an idea the president has promised to consider in earnest over the next two years.
If he does, and if Congress joins him in making a serious effort to do the same -- the outlook for 2025 could improve.