Gold ATM lands in Boca Raton
NEW YORK (CNNMoney.com) -- Ever felt the need to exchange greenbacks for gold bullion while finishing your holiday shopping?
Well, now you can. Just head on down to Town Center Mall in Boca Raton, Florida, where America's first gold dispensing ATM opened for business on Friday.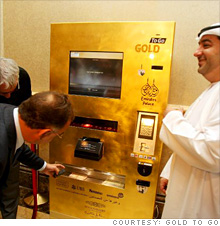 All you have to do is enter near the Neiman Marcus, hang a right toward the food court, and you will see the gold plated-vending machine near the candy store. Seriously.
The ATMs, designed by a German company called Ex Oriente Lux AG, are already operating in over 15 locations worldwide including Germany, Spain, Italy and Abu Dhabi.
The ATMs, which dispense gold coins and bars weighing up to eight ounces at prices updated every 10 minutes based on the real-time spot price of gold, churn out 20 to 100 gold pieces a day depending on traffic.
"Thousands of hours of development, lots of tinkering as well as the heart and soul of our fantastic team were invested in GOLD to go -- not exactly a small risk for a medium-sized company," Thomas Geissler, CEO of Ex Oriente Lux AG, which owns Gold to go said in a statement.
Gold to go's machines began showing up last year as gold prices soared amid worries about the health of the global economy. They really gained popularity as euro zone nations' debt ballooned and the U.S. economy remained stuck in a rut.
Gold prices hit record highs of over $1400 an ounce earlier this year and currently trade around $1380 an ounce.