BigChampagne's building a social music chart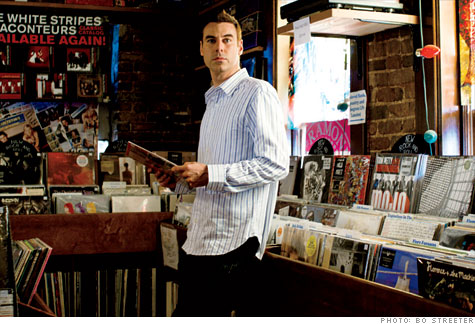 FORTUNE -- Before the rise of online radio station Pandora and music video sites such as Vevo -- and years before Apple (AAPL, Fortune 500) launched its iTunes music store -- Eric Garland reckoned that the Internet was going to transform the music industry. Back in 2000, when a lot of online listening activity involved illegal peer-to-peer file sharing via services such as Napster, Garland believed that all the online activity could actually help lesser-known bands and artists market themselves, if they could just quantify their successes. So he and Tom Allison, a former Coca-Cola (KO, Fortune 500) marketing executive, formed BigChampagne to catalogue file sharing and MP3 downloads.
Since then, digital downloading has gone legit: The iTunes Store, which opened in 2003, has sold more than 10 billion songs. Pandora has turned a profit. Even Napster has been rebranded as a legal subscription service. And BigChampagne, based in Beverly Hills, is more relevant than ever. Today it tracks sales, downloads, and listening activity on just about every music-distribution platform, from iTunes to FM radio to MySpace. (And, yes, it still tracks illegal file sharing too.)
BigChampagne then analyzes and sells the data to record labels, talent agents, and radio stations that are looking to find under-the-radar acts. Increasingly, clients also want to gauge the impact of social media such as Twitter, which recording artists have embraced wholeheartedly. (Just check out Kanye West's Twitter feed.) In late July, BigChampagne unveiled its latest creation, the Ultimate Chart, which supplements widely available data on sales on Amazon (AMZN, Fortune 500) and iTunes with metrics that measure a song's buzz: YouTube and MySpace hits, Twitter and Facebook mentions, Clear Channel radio spins, and Rhapsody and Last.fm streams. "We are certainly trying to narrow the really significant gap between the charts that are published on a week-to-week basis and the actual artist-to-fan connection," Garland says.
Industry reaction to the new list has been mixed. Reps for Billboard and Nielsen Soundscan wouldn't comment, but one music industry executive says of the Ultimate Chart: "It's like the People's Choice Awards. It's hype for the sake of hype."
Ultimate Chart rankings don't always differ wildly from sales data. Bruno Mars' "Just the Way You Are" was No. 1 on BigChampagne's list during the week of Oct. 4, as it was on the Billboard Hot 100. But the "Glee" soundtrack version of the Alicia Keys/Jay-Z New York City anthem "Empire State of Mind" hit No. 7 on BigChampagne, vs. No. 21 on Billboard. That reflects under-measured online buzz following both the "Glee goes to New York" TV episode and a viral "Late Night With Jimmy Fallon" video in which Fallon and Justin Timberlake rap the history of hip-hop in less than four minutes. "The real measure of passion is sales," says Avery Lipman, co-president of Universal Republic Records, a unit of Vivendi's Universal Music Group. "That said, how can you ignore and discount 50 million [online] plays of Lady Gaga?"
BigChampagne uses a mix of software and human referees to compile its data. Its technology monitors web searches and catalogues music in consumers' shared folders. Meanwhile, a dozen or so "matchers" sit at a bank of computers and make real-time decisions about the data. Does a track that "features" Jay-Z count as a Jay-Z track, or should it be attributed to another artist? "We have taught computers over many years to be very consistent about reconciling all this different data," Garland says. "But we've also put editors in place to settle disputes."
Garland, 38, started his career as a management consultant, but he also happened to be a file sharer and music fan. ("I've always liked pop music for old people," he says.) He won't disclose sales -- BigChampagne is privately held but in a dozen years it has expanded from its Napster-era roots and now measures data from iTunes, Amazon, eMusic, AT&T (T, Fortune 500), YouTube, MySpace, Last.fm, Facebook, and Twitter. Garland says he plans to expand the Ultimate Chart to track the popularity of albums. He also envisions expanding to other media, such as videogames, TV, even movies. Any product that can be consumed online then tweeted or recommended or friended is a candidate for BigChampagne to measure. Critics may dismiss the company's Ultimate lists as hype, but someday they may be as mainstream as, well, digital music.