Urban farming 2.0: No soil, no sun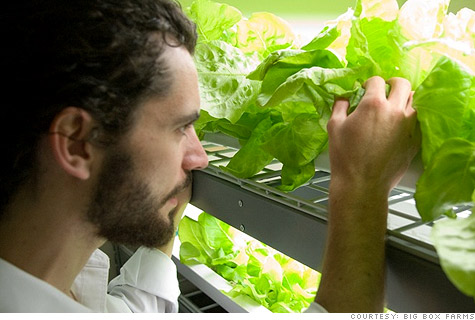 (CNNMoney.com) -- Forget the conventional wisdom that says veggies must be grown on vast farms in the Midwest. What if commercial-scale crops took root inside cavernous city warehouses, without sunlight or soil?
Call it urban farming 2.0. Over the past decade, city agriculture has largely been the province of non-profit organizations, school groups, renegade gardeners and restaurants sowing seeds on rooftops. But the newest breed of city farmers are businessfolk. In their hands, urban agriculture is scaling up to meet a rising demand in city centers for safe, organic and locally grown food.
One such indoor farm opened in September in Vancouver, growing lettuce and spinach inside an 8,000-square-foot warehouse using a hydroponic system that replaces dirt and weather with peat moss plugs and circulated water. High-efficiency LED lighting hits plants grown on stacked shelves.
The Eco Spirit-branded lettuce operation -- which is owned by the local Squamish Nation tribe -- now supplies eight stores for Choices Markets, a natural foods chain in greater Vancouver. The tribe licensed the technology from TerraSphere Systems in Canada and plans to grow the Eco Spirit label into a larger brand of locally grown produce.
"It's clean, it's safe, it's good for the environment," says Nick Brusatore, technical director of Vancouver-based TerraSphere Systems, which started developing the indoor farming technology eight years ago. TerraSphere generated $4 million this year from equipment sales and technology licenses to organizations like the Squamish Nation. New indoor farms are slated for New York, New Jersey, Ontario and Rhode Island.
"The demand is there, without a doubt," says Brusatore. "We're going to produce food everywhere."
Finding empty space won't be a problem. America is littered with thousands of abandoned big box stores, a trend fueled by the sputtering economy. About 11% of commercial and industrial real estate nationwide remains empty -- double the vacancy rate of just four years ago, according to Reis Inc., which tracks real-estate data.
Finding buyers is also fairly easy. Large grocers, from Wal-Mart (WMT, Fortune 500) to Whole Foods (WFMI, Fortune 500), have made selling locally grown food a priority in their stores.
"Urban agriculture is a growth industry," says Dickson Despommier, a Columbia University microbiology professor and author of The Vertical Farm. His book touts a vision for commercial-scale agriculture in high-tech greenhouses as high as 30 stories tall, with the footprint of an entire city block.
On the flip side: Critics worry that today's urban farm startups will be huge -- and short-lived -- energy hogs, brought down by electrical bills they can't afford.
"Scores of companies have tried to do this, even the big guys like General Mills 15 years ago," says Bruce Bugbee, a professor of crop physiology at Utah State University. "It's too expensive. People don't realize how much light it takes to grow plants."
Turning warehouses into farms
But that won't stop entrepreneurs from trying. Jordan Motzkin, 22, of New York, has won grants from National Science Foundation and the College of the Atlantic for his startup, Big Box Farms, which finished testing a prototype in Maine and plans to open an indoor farm in an old Brooklyn warehouse early next year.
He expects the farm to grow millions of pounds of organic lettuce and basil. Motzkin then hopes to replicate it, first with farms in Chicago and Philadelphia, then elsewhere in the nation.
He plans to run the entire operation -- from indoor climate control to hydroponics and LED lighting -- remotely using iPhone applications. Big Box Farms is also working with Philips Electronics to test out their latest generation of LED lights, which are not yet available to the public. Motzkin says the new LEDs could make a big difference, improving energy efficiency by 40% to 60%.
"You're turning food into a factory scenario, where you can control the environment completely," says Chris Higgins, an industry consultant and owner of Hort Americas, a Dallas supplier of hydroponic growing systems. "They could get production 365 days a year, which would be a huge advantage. They're on the cutting edge."
They also yield more produce. Despommier says a stacked hydroponic operation might yield about 64 heads of lettuce per square foot annually, compared to about three heads at a traditional outside farm.
Another new company, Gotham Greens, will use hydroponics to grow everything from bok choy to basil in an enclosed rooftop greenhouse in the middle of Brooklyn. The company raised $2 million from investors and should finish the 15,000-square-foot greenhouse this spring, producing 40 tons of crops a year, most of which will be sold to a local Whole Foods store.
In San Francisco, Cityscape Farms plans to grow lettuce and herbs and raise fish in water-based aquaponics systems in greenhouses set up on urban rooftops and vacant lots.
Cityscape CEO Mike Yohay predicts that by eliminating transportation costs and fertilizer, a 10,000-square-foot greenhouse could produce $500,000 in profit and 20 to 30 tons of food a year for local supermarkets and corporate cafeterias.
Some investors, however, still aren't sold on the idea that indoor city farms can produce affordable food and carve out a big financial advantage over traditional farmers who may be just 60 to 100 miles away.
"We've seen half a dozen companies working on this," says Silicon Valley venture capitalist Paul Matteucci. "For the most part the quality of the product is excellent, but the costs are still too high."
But in Vancouver, Eco Spirit is optimistic. The indoor lettuce operation should generate $400,000 to $1 million in annual revenue, says Squamish Nation Chief Gibby Jacob. The tribe paid $2 million for the equipment and its franchise license from TerraSphere.
Since the produce began showing up in stores three months ago, consumers have literally eaten it up, says Mark Vickars, CEO of Choices Markets. They pay up to $5 for a 5.3-ounce container of the locally grown lettuce.
"The quality is excellent, the nutrient levels are high, the shelf life is long," Vickars says. "We're always trying to go local, and this gives us local 365 days a year."