Amazon patents bad gift exchange system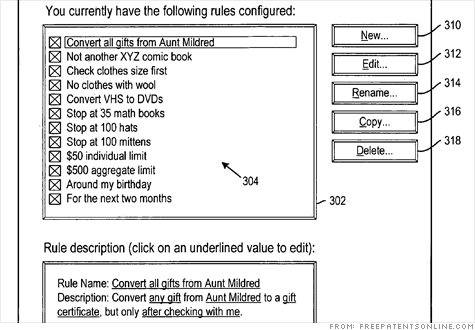 NEW YORK (CNNMoney.com) -- Amazon.com has patented a way for you to exchange Aunt Mildred's horrible Christmas gifts before they even get to your door.
Unfortunately for all the recent recipients of monogrammed towels with the wrong initials on them, Amazon's system is not up and running this holiday season. But the company detailed how such a plan could work in future years.
An Amazon user could click a box on their profile that says "convert all gifts from Aunt Mildred" into something else -- like a gift certificate you can use for the stuff you really want.
The online retailer noted that a customer might wish to deploy this nuclear option on gifts "because the user believes that this potential sender has different tastes than the user." With a product catalog that ranges from bestselling books to ceramic figurines of a Chihuahua cupid, Amazon certainly caters to many "different tastes."
Knowing Aunt Mildred is sensitive about such things, Amazon (AMZN, Fortune 500) would even allow the recipient to send her a thank-you note -- for the original gift.
The company noted that bad gifts cause major headaches for both the gifter and the giftee. Senders often picks conservative gifts out of fear that the recipient won't appreciate a better thought-out gift, and urge the giftee "to feel free to exchange it if you don't like it," the company noted in its patent application.
However, the recipient often doesn't want to go through the hassle of repackaging and resending an unwanted item. He or she is left with a pair of hideous red and green plaid wool socks that say "Happy Holidays" and are too small to wear anyway.
Amazon filed for the patent in 2006 and was awarded it in November 2010, but there's no set timeline for Amazon's system to be implemented. In fact, it might never see the light of day. Users would have to get accustomed to a new way of sending and receiving gifts -- an option sure to face backlash.
Amazon representatives did not immediately respond to calls for comment on the patent.
As for Aunt Mildred, this isn't the first time she has appeared in a patent filing. In 2000, inventor David Hitt invoked her in a patent application for a system of converting e-mail to snail mail and physically delivering it to a technophobe recipient.
Poor dear. But hey, there's been progress: A decade ago Auntie was struggling with e-mail, and now she's shopping for her holiday presents online!