Home price plunge is widespread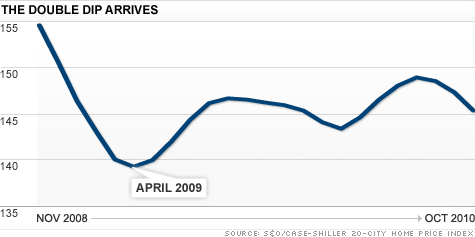 NEW YORK (CNNMoney.com) -- Home prices took a shockingly steep plunge on a monthly basis, an indication that the housing market could be on the verge of -- if it's not already in -- a double-dip slump.
Prices in 20 key cities fell 1.3% in October from a month earlier, an annualized decline of 15%, according to the S&P/Case-Shiller index released Tuesday. Prices were down 0.8% from 12 months earlier.
Month-over-month prices dropped in all 20 metro areas covered by the index. Six markets reached their lowest levels since the housing bust first began in 2006 and 2007. They were Atlanta, Charlotte, N.C., Miami, Portland, Ore., Seattle and Tampa, Fla.
"The double-dip is almost here," said David Blitzer, chairman of the Index Committee at Standard & Poor's. "There is no good news in October's report. Home prices across the country continue to fall."
The report was far more dire than anticipated by industry experts, who had forecast an almost flat market in October. It followed weak September numbers.
"It was a bit of a surprise," said real estate analyst Pat Newport of IHS Global Research. "I wasn't expecting it to lag so badly in all 20 cities."
He, along with many other experts, has been forecasting further price erosion over the next few months of 5% to 7%, but didn't expect the price drop to hit so fast and so hard. It's mostly attributable to the end of the tax credit for homebuyers, the effects of which started to vanish beginning in June.
"The trends we have seen over the past few months have not changed," said Blitzer. "The tax incentives are over and the national economy remained lackluster in October, the month covered by these data."
Sales volume continues to lag, off 25% even from last October, when markets could hardly be described as robust.
The inventory of homes on the market is up about 50% compared with last year at this time, and there are millions of potential homes for sale waiting on the sideline for markets to improve.
Much of that "shadow inventory" is held as repossessed properties by banks, who will eventually have to release them back on the market.
Prices in Atlanta, down 2.9%, and Detroit, off 2.5%, took a particular beating in October. Las Vegas and Washington came out of the month only slightly bruised, down just 0.2%.
The report ran counter to what have been generally positive signs of economic recovery, according to Richard DeKaser, an independent housing market analyst and founder of Woodley Park Research.
"The market is not showing much improvement after the summer slump," he said. "Housing is acting as a drag on recovery."
The coming of the second of the double dip is icing on the cake for homebuyers, who already have benefited from prices not seen in years in most markets.
"Prices have already adjusted, and are probably undervalued in most cities," said Newport. "This will make them even more undervalued."