They're spending $50 billion. You'll be paying.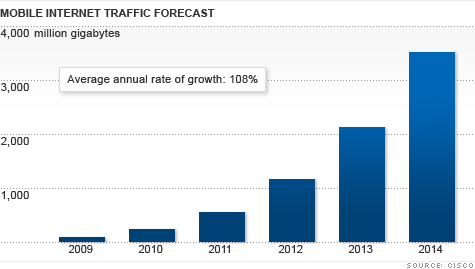 NEW YORK (CNNMoney.com) -- The explosion of Internet video viewing on smartphones and tablets is costing wireless carriers tens of billions of dollars each year -- and that growing tab is going to land in your cell phone bill.
The amount of data downloaded to mobile devices doubled this year compared to last. Video was the largest contributor to that growth, according to Cisco's Visual Networking Index.
Cisco (CSCO, Fortune 500) expects that trend to continue, with mobile data downloads more than doubling every year through at least 2014. By that time, mobile Internet traffic will have grown to 17 times 2010's levels. Over the next four years, total mobile video traffic will expand to 197 million gigabytes -- or about 13 billion YouTube videos.
The growth of smartphones isn't the sole cause of the mobile data boom. Tablets and laptops with wireless access are rapidly multiplying, and bigger screen sizes typically correlate to higher demand for data, especially video.
Experts say the wireless companies have fallen behind the data-demand curve and are desperately playing catch-up.
"It's akin to putting a big fire out with a garden hose," said Ken Rehbehn, principal analyst at Yankee Group.
To handle all that traffic, the carriers are scrambling to make their networks larger, faster and more efficient.
But that's an expensive task. The U.S. wireless industry is spending $30 billion to $50 billion annually to improve their networks, according to Dan Hays, partner at consultancy PRTM.
Verizon Wireless (VZ, Fortune 500) spent $17 billion alone improving its network in 2009, and AT&T (T, Fortune 500) spent about $19 billion over the past year on upgrades. Sprint (S, Fortune 500) laid out about half the money for the $14.5 billion it cost to launch its 4G network venture with Clearwire and other partners. T-Mobile said its network improvements have cost less but are in the same ballpark as its competitors.
As a result, some companies have begun to pass those costs on to their customers.
Sprint is charging its customers $10 extra for its faster "4G" service, and AT&T has opted to charge its users more for higher amounts of data usage. Verizon is toying with changes to its unlimited data plans, and may charge customers more if they choose faster speeds.
The days of "all you can eat" mobile data pricing are vanishing.
For instance, if you want to watch Netflix (NFLX) all day on your iPhone using a mobile connection, that's going to cost you. A lot. AT&T charges $10 per gigabyte for downloads over its 2-GB-a-month limit, which only gets you between six and 12 hours of streaming movies and TV shows, depending on the bit rate.
Experts say all that spending by the wireless carriers to deal with the video-induced stress on their networks is inevitably going to force all mobile providers to demand that consumers to pay for what they use.
"The wireless industry clearly has to move in a direction that better matches pricing with consumption," said PRTM's Hays. "That's going to be necessary to maintain the overall health of the industry and to drive the right behaviors among consumers."

Where's the $50 billion going? Here's a breakdown.