N.Y. governor unveils emergency debt plan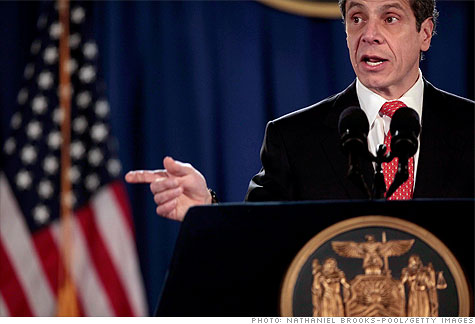 NEW YORK (CNNMoney) -- The newly inaugurated governor of New York proposed a wave of belt-tightening measures Wednesday as part of what he called a fundamental realignment of the state.
Andrew Cuomo, a Democrat who assumed office Jan. 1, laid out the emergency fiscal plan designed to help bridge a $9 billion budget gap in fiscal 2012 during his inaugural State of the State speech.
"We need to transform our budget. We have to start with an emergency financial plan to stabilize our finances. We need to hold the line and we need to institute a wage freeze in the state of New York," Cuomo said.
Cuomo is far from the only governor facing a shortfall. The Conference of State Legislatures says the 50 states face a combined $82 billion in deficits in their 2012 fiscal years, as high unemployment continues to undermine a weakening tax base across the country.
But New York's situation is particularly dire, a fact Cuomo recognized.
"The state of New York spends too much money. It is that blunt and it is that simple," he said.
Among the proposed changes were a wage freeze for state employees, a state spending cap, the consolidation of state agencies charged with regulating Wall Street, and a cap on property taxes.
Prior to the election, Cuomo said contracts for 96% of the state workforce are up for renegotiation on April 1, and he intended to keep them at their current levels.
The state's Medicaid program is also in desperate need of reform, Cuomo said, as he proposed a reorganization of the program.
"This is not going to be a budget-cutting or trimming exercise, we need to redesign the Medicaid program," Cuomo said.
Cuomo's proposals will first have to work their way through a state legislature that has in recent years failed to enact meaningful budget reforms, something the new governor said the current group can change.
The clock is already ticking. The state's new fiscal year starts April 1, and there are long-term implications if Albany fails to act.
"It's not just about this year," Cuomo said. "Next year the problem goes to $14 billion. The year after the deficit goes to $17 billion. This is not a one-year problem, my friends. This is a fundamental economic realignment for the state of New York."
Even with the state's mounting debt, Cuomo said New Yorkers can't afford higher tax rates, which are already some of the steepest in the nation.
Cuomo set the stage for budget cuts by announcing earlier this week he would cut his $179,000 salary by 5%. He also cut the pay of other senior state officials.
"Change starts at the top and we will lead by example," said Cuomo, who was elected by a wide margin in November.
The neighboring state of New Jersey has similar problems, with a projected budget gap of $10.5 billion for fiscal year 2012, according to the Conference of State Legislatures.
California, where Jerry Brown returned Monday to the governor's office he held in the late 1970s and early '80s, is in much worse shape. The conference projects a budget gap of $19.2 billion for fiscal year 2012, followed by a gap of $22.4 billion in 2013 and $20.4 billion in 2014.