Rent costs half my income - and it's worth it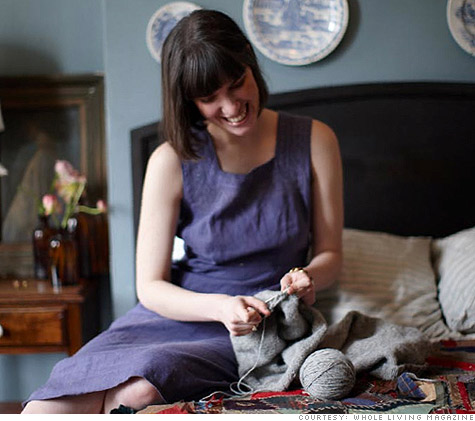 Amy Merrick is a floral designer, writer and stylist living in Brooklyn, N.Y. She documents the intersection of money and her creative pursuits on Bundle.comand on her own blog, An Apple a Day.
My apartment is neither particularly large nor small for New York City standards. Its rent isn't shockingly high or low; its location isn't either desirable or damnable. It's a small slice of real estate mediocrity and it's also my proudest New York triumph.
Living roommate-free in its quirky, wallpapered walls is by far the biggest financial luxury a girl like me can have.
You see, in New York, roommates are an inescapable fact of life for those not blessed with a trust fund or a lucrative drug-pushing business. But my decision to live alone came after years of clingy boyfriends and loony roommates.
I once had a roommate that would drunkenly throw up in the bathtub and not clean it up until the next day. Another put a dead pet rat in the freezer in a Ziploc bag until she could give him a proper burial. I fled to my boyfriend's house to permanently escape.
He paid the monthly $3,000 mortgage and our living arrangement suited us both nicely. I got to walk to my first job out of college, which paid me $57,000 a year for doing something that involved lolling around in free designer dresses.
He worked from the little apartment as a real estate flipper, back when that job title wasn't a hilariously embarrassing throwback. Living together worked great until, of course, it didn't.
I needed my own place and Manhattan was out. So were backyards, doormen and freshly waxed hallways, because above all, roommates were out. But I swore off roommates permanently, even if it meant 10-for-$1 packs of Ramen for the foreseeable future.
On my salary, conventional wisdom said I could afford $1,425 a month, 30% of my monthly pay.
Of course, a minuscule studio in the East Village costs at least $2,400 a month. Want to know how much a chic, minimal one-bedroom in TriBeCa costs? No. You don't.
Chelsea has a better price and better size, as long as living over a leather shop doesn't make you blush. The Upper East Side can be cozy with a pre-war fireplace if you have $3,500 a month and an interest in fluffy, miniature dogs.
In Brooklyn, a Park Slope brownstone garden apartment goes for $2,700, and in Williamsburg, a railroad complete with vinyl siding will set you back $1,800 (ironic, stonewashed jean jacket from the '80s not included).
After viewing practically 20 places, I eventually settled on a suspiciously cheap $1,015 two-bedroom in Williamsburg.
It was advertised as a "handyman special" meaning its shining attributes were windows with unbroken panes of glass and functioning deadbolts. In my defense, the ceilings were tall and it had great natural light. Light that blinded me from actually, well, noticing the revolting conditions inside the apartment.
Two days later, the keys were mine and so were the roaming families of mice. The first day I sat on my pink faux marble linoleum floor and sobbed. I had just written a check for $4,000 for the first and last months rent, broker fee and a security deposit.
Is this what being a grownup was? Spending all of your worldly savings on 20-year-old roach motels and florescent fixtures? Why had I allowed myself to be blinded by a tin ceiling and semi-decent zip code? Why hadn't I even looked in the bathroom?
Since the apartment was about $400 less a month than I had budgeted, I decided to spend that extra $4,800 of yearly savings into turning the hovel into a home.
I bought at least 16 gallons of paint and primer at $32 each ($512 total). I replaced hollow core doors with salvaged antiques ($150), and bought new-old brass hardware for those doors ($50).
I ripped up my linoleum tiles and rented a floor sander to refinish the beautiful wood floors below ($500). But apparently, I'm awful at sanding floors, so I had to rent it again after I wrecked it the first time ($500). Sand paper, wood stain, varnish ($200).
Two rolls of vintage 1940s wallpaper ($100). Cordless drill, hand sander, jig saw ($200). Seriously, this list goes on forever.
In the past four years, my grand total shapes up to be nearly $6,000 once you factor in furniture and my "little antiques problem". By signing a lease on a $1,000 fixer-upper instead of spending my budgeted $1,400, I've saved $13,200 in four years even after my investment, and have an apartment more charming than anything else I could have afforded to start with.
Granted, I'm no longer at my cushy, low-effort/high-yield job, and I bring home half of what I made in the early days of my apartment. But I now work out of my home as a floral designer, writer and stylist, and I have the flexibility to adapt my space to the project at hand -- something that would be impossible if I had roommates.
Living alone in New York and starting a small business from home has taken its toll on my savings account, especially since I no longer have a steady income. There was a serious period of adjustment for my new budget.
It took months to break the $5 latte habit, and months more to break the $50 laundry service habit. I wept for slices of $14 flourless chocolate cake. I craved $24 cab rides home, and all of the other things I perhaps wasn't even adult enough to appreciate in the first place. (Health and dental, anyone?)
These days, I spend well over half of my income to live alone in my apartment, but it makes sense for me. I have the space to think, work and be creative without distractions. It's a financial investment in my business and myself that pays dividends in happiness and productivity.
Even though I struggle to rub two dollars together at the end of each month, my name is the only name on the buzzer and that alone is worth a million slices of flourless chocolate cake.