Toyota's big bounce back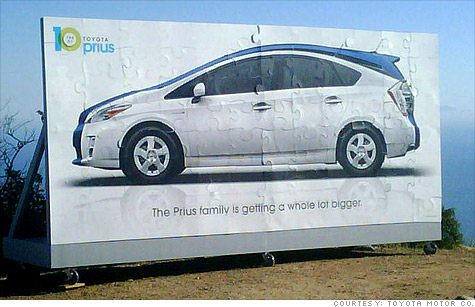 FORTUNE -- Toyota Motor Corp. surely took top spot in 2010 for most vilified and reviled automaker in the U.S. The carmaker that once could do no wrong fell hard from grace after numerous allegations of unintended acceleration in its cars led to a massive recall campaign and countless lawsuits.
But for all the costs of litigation, investigations, fines and blows to its image, the No. 1-selling automaker worldwide emerged in remarkably stable condition, asserting that it's poised to gain back at least some of the ground it lost in the U.S., its most important market.
"Once you go through something like this there's a new energy," said Jim Wiseman, a Toyota spokesman. "It's made us stronger. We're not arrogant, we're making sure we're listening to all our customers."
While U.S. light-vehicle sales grew by 11.1 percent, a year of recovery, Toyota's sales slipped 0.4 percent for the year, resulting in a loss of 1.8 points of market share to 15.2 percent. The decline knocked the company to third place from second, behind a resurgent Ford Motor Co. (F, Fortune 500) and the market leader, General Motors (GM).
Toyota's poor results are mitigated by two facts: First, the automaker virtually stopped selling vehicles for four weeks early in the year, due to regulatory pressure and hyper-cautious worry that some of its cars might be unsafe. Allegations that an electronic glitch in Toyota's acceleration system were causing a malfunction so far have proved unfounded.
Second, only about 8 percent of Toyota's sales went to rental and other fleets last year, compared with roughly 30 percent for domestic competitors -- implying that Toyota remains less willing than some of its competitors to discount vehicles to gain share.
Jeff Liker, a professor at the University of Michigan, is publishing a book in March entitled "Toyota Under Fire,'' which argues that the company has been a model of turning the crisis into an opportunity for improving the company. In his book Liker cites a Rice University survey that showed Toyota owners hadn't wavered in their satisfaction with their vehicles.
Toyota's long track record of top safety ratings created what the authors of the survey called "brand insulation effect" that shielded the company from hostility among owners of the company's products. Toyota owners tended to believe more than owners of non-Toyota vehicles that the company handled the recall well and that the sudden unintended acceleration uproar was an outlier.
Consumer Reports Fall 2010 rankings of the most reliable vehicles included 17 Toyota models the most of any automaker. In December, the magazine put five Toyotas on its list of vehicles likely to last beyond 200,000 miles; no other manufacturer had more than one vehicle on the list.
In the last three months Toyota shares have gained 14.5 percent, compared with 12.5 percent for the Nikkei index.
Despite the safety uproar, Toyota's midsize Camry sedan remained the No. 1-selling passenger car in the U.S., outpacing Honda Accord, Nissan Altima and Ford Fusion.
Toyota has expansion plans for its Prius nameplate, which the company believes will surpass Camry as its biggest in the U.S. by the end of the decade. More and more of its vehicles will get Prius's gas-electric hybrid powertrain, which tends to save gasoline. The company reveal its Prius initiative in more detail at the North American International Auto Show press preview, which begins Monday.
Toyota is putting its money where its mouth is. A survey by Booz & Co. said the Japanese automaker is one of the four top-spending companies worldwide on research and development and invests more than any other automaker. In the fiscal year ended last March, Toyota's R&D outlays reached 725 billion yen ($8.6 billion), a sum it forecasts will rise to 760 billion ($9.1 billion) this year.
Any competitor that suspects Toyota is a company in decline based on its performance last year could be in for a rude shock, especially if the U.S. economy continues to gain strength and shoppers buy more new vehicles in 2011 for a second straight year.