Treasuries pop after jobs report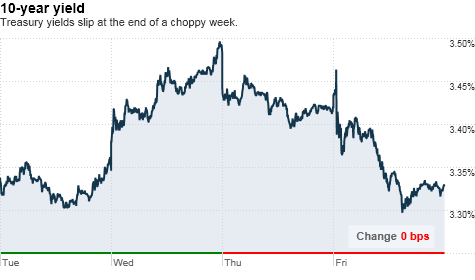 NEW YORK (CNNMoney.com) -- Treasuries headed higher Friday, as investors looked for a safe haven following a government report showing employers added fewer-than-expected jobs last month.
The government's monthly reading on the labor market showed employers added 103,000 jobs in December, compared to the 150,000 gain that economists surveyed by CNNMoney had expected. Meanwhile, the unemployment rate eased to 9.4%, the lowest level since 2009.
Traders had been bracing for the report all week, and Treasuries got a boost soon after it was released. Uneasiness about the economy tends to lift Treasuries, which are viewed as safe investments and are particularly attractive during times of economic uncertainty.
"The jobs report for a second month in a row is giving investors a little bit of pause in their view that the economy is on fire," said Wan-Chong Kung, a senior fund manager at First American Funds.
What prices are doing: As stocks slipped, the price on the benchmark 10-year note rose, sending its yield down to 3.33% from 3.42% Thursday. Prices and yields move in opposite directions.
The yield on the 30-year Treasury bond fell to 4.48% from 4.52%, while the yield on the 5-year note slid to 1.97 from 2.08% and the 2-year note fell to 0.61% from 0.69%.
Stuck in a rut: While the report disappointed, it wasn't terrible enough to disrupt the improving trend in economic data, said Kung.
"Up until today, data has been pretty uniformly stronger than expectations," she said. So it's going to take more than a lukewarm jobs report to really push prices one way or the other, she added.
Bonds have been stuck in a rut since mid-December, with the 10-year yield hovering around 3.40%, said William Larkin, portfolio manager with Cabot Money Management.
"Bond market participants have priced in the recovery and we've got these [10-year] yields in the 3.40% range, and we've been stuck in this range since mid-December," said Larkin. "The bond market is going to need something else to get it above 3.5%, and that would maybe be an indication from the Fed that it would change its policy during 2011."
Yields poised to rise: Once the Fed acknowledges the improving economy and decides it doesn't need to provide as much support, yields will head higher, said Larkin.
Yields would also be given a lift if economic data reverses direction and the Fed decides to buy more Treasuries to help the economy.
"If we do see a turn for the worse in terms of economic data, more people will want to invest in Treasuries," said Kung. "And if the Fed increases quantitative easing this will also provide a bid to Treasuries."
The average 10-year yield was 3.77% from December 2007 to December of this year, and Larkin said he thinks yields have the potential of climbing to this range again.
"We're back in the normal recovery period," he said. "Over the next year we're probably likely to see that progression toward that 4% mark if things continue to improve to the upside."
Experts and 25 leading economists surveyed by CNNMoney forecast the benchmark 10-year yield will hit 3.85% by the end of 2011.
But there are factors that could hold yields back, Larkin said.
"We've got a lot of positives but a lot of structural negatives that could hold yields down," said Larkin. "Europe, trade problems, volatile currency fluctuations -- these are all things that disrupt the economy and tend to push people into safer asset classes like Treasuries."