Toyota unveils Prius station wagon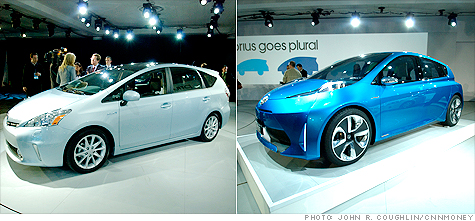 DETROIT (CNNMoney) -- At the 2011 Detroit Auto Show, Toyota is asking "What's the plural of Prius?"
They'd better figure it out because, very soon, Toyota will be offering more than just one version of the Prius.
At last year's Detroit Auto Show, Toyota Motor Co. (TOYOF) announced it would create an entire line-up of vehicles sharing the Prius name. At this year's show, Toyota unveiled the first vehicle in that new line-up, a Prius-based wagon that will go on sale later this year.
"This is no ordinary family," Toyota general manager Bob Carter said of the new set of Prius vehicles "It's a modern family with a Prius for everyone."
The new wagon-like Prius, called the Prius V -- that's the letter V for "versatility," Toyota says, not the Roman numeral five -- has a more spacious interior than the familiar Prius hatchback. The Prius V offers 50% more interior space, according to Toyota.
The back seats slide back and forth, providing more legroom or cargo space as needed and the rear seatbacks also recline up to 45 degrees.
The Prius V will get EPA-estimated fuel economy of 42 mpg in the city and 38 on the highway, Toyota said.
Toyota also introduced a concept version of a smaller Prius.
The Prius C concept car is a basically a compact version of the Prius on the road today. This mini-Prius will have the best fuel economy of any non-plug-in hybrid car, Toyota said. The automaker did not provide exact fuel economy estimates, however.
Toyota had previously announced that it would begin offering a plug-in version of the Prius in 2012. That car will go about 13 miles on plug-in power before turning to its gasoline engine, at which point it will operate like a regular Toyota Prius hybrid car.
Hybrid cars use electric motors to provide additional power to drive the cars, lessening the burden on the gasoline engine and providing improved fuel economy. Power for the electric motors is generated by the gasoline engine as the vehicle drives.
The Prius hatchback which is currently on sale already accounts for half of the hybrid vehicles sold in America. However, all hybrid vehicle sales combined only make up a tiny fraction of the total number of vehicle sales in America.
Karl Brauer, a senior analyst with the automotive Web site Edmunds.com, thought the Prius family was likely to sell well, just as its founding member has.
"Despite all Toyota's recent challenges the Prius name still carries a lot of brand equity," said Edmunds.com Senior Analyst Karl Brauer.