IPhone won't do much for Verizon stock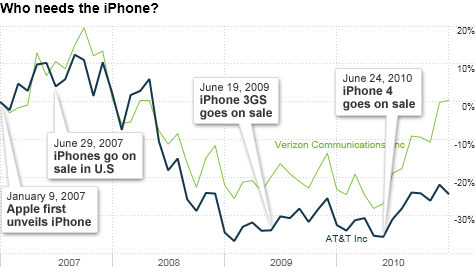 NEW YORK (CNNMoney) -- It looks like the iPhone is finally coming to Verizon. Will that do wonders for Verizon's stock?
Don't count on it. If history is any guide, the iPhone may have little impact. AT&T's stock has been an absolute dog for the past few years, despite the fact that it has been the exclusive seller of the iPhone in the United States.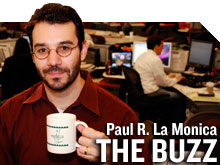 Shares of AT&T (T, Fortune 500) have fallen about 20% since the phone was formally unveiled in January 2009. And Ma Bell's stock is down almost 30% since the iPhone actually went on sale in the U.S. in late June of 2007.
Of course, the past couple of years have been incredibly tumultuous for the stock market. But Verizon (VZ, Fortune 500) has outperformed AT&T (and the broader market) during the iPhone era. Verizon's stock is up slightly, while the S&P 500 is down about 10%.
Shares of British telecom Vodafone (VOD) -- which owns 45% of Verizon's Verizon Wireless unit -- have also outperformed AT&T since the birth of the iPhone.
What's this all mean? Any investor getting caught up in CDMA iPhone hype needs to realize that the real winner probably won't be Verizon. It will likely be Apple. Shares of Apple (AAPL, Fortune 500) are up nearly 300% since Steve Jobs introduced it nearly four years ago.
Sure, Verizon is likely to enjoy a bump in subscribers once the "Can you hear me now?" guy starts plugging it in commercials. This Verizon subscriber is looking forward to purchasing one.
But Christopher King, an analyst with Stifel Nicolaus in Baltimore, said that investors may already have bid up Verizon's stock in anticipation of the iPhone news. After all, Tuesday's likely Verizon iPhone announcement caps off years of speculation.
"Shares are up 40% in the past six months. That's huge for Verizon," King said. "This is good news but it looks like a lot of it is priced in already."
King said that the Verizon iPhone is probably a bad sign for Sprint Nextel (S, Fortune 500) and T-Mobile parent Deutsche Telekom, since neither of them are expected to get the iPhone. But the recent bump in Verizon's stock price could turn out be a short-term blip, an anomaly.
Since the market bottomed out in March 2009, shares of both Verizon and AT&T have tended to lag the broader market -- and especially Apple and other tech stocks.
The reason for that is simple. The growth prospects for the two telco giants, even with a plethora of cool phones beyond the iPhone that both companies offer, are slim.
The explosive growth of all things wireless just isn't enough to offset the steady declines in the traditional landline voice businesses for both companies.
Competition is also fierce for high-speed data and video services, since both telcos have to fight with cable giants Comcast (CMCSA, Fortune 500) and Time Warner Cable (TWC, Fortune 500) for customers.
As a result, analysts expect annual sales growth of less than 2% for AT&T and Verizon in 2011. Dial T for Tepid.
And even in wireless, demand for the iPhone comes at a price.
Timothy Horan, an analyst with Oppenheimer & Co. in New York, said that the iPhone can actually hurt profit margins for Verizon in the short-term because of subsidies it would likely pay to keep the cost of the phone down for subscribers. He argues that already has happened to AT&T.
"The subsidies help out Apple -- but not the service providers," he said.
What Verizon and AT&T each have going for them -- as has been the case for the past few years -- is a huge dividend. Ma Bell's payout yields 6%, while Verizon has a dividend yielding 5.4%. So it's possible to get a decent total return from them once you factor in the dividends.
But don't expect the iPhone to turn Verizon into a sexy high-growth stock. Just ask shareholders of AT&T. If anything, the best you can say about the iPhone coming to Verizon is that it may just simply put a floor on the stock.
"To a certain extent, you can argue that AT&T would be in a lot worse position without the iPhone," King said.
-- The opinions expressed in this commentary are solely those of Paul R. La Monica. Other than Time Warner, the parent of CNNMoney, and Abbott Laboratories, La Monica does not own positions in any individual stocks.