Coming in 2012: Maserati SUV with Ferrari engine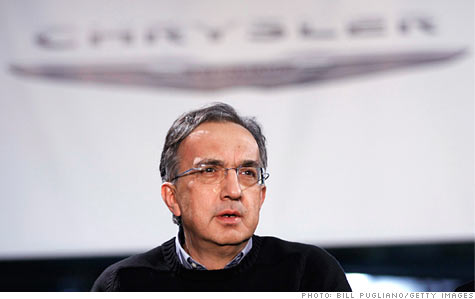 DETROIT (CNNMoney) -- Maserati will get its own SUV model next year, built on the platform of Jeep Grand Cherokee at the Chrysler Group plant in Detroit, the companies announced Tuesday.
Sergio Marchionne, the CEO of both Jeep parent Chrysler Group and Maserati parent Fiat, said the new vehicle will debut in 2012, and that it will contain an engine designed by another Fiat unit, Ferrari.
"It will be a rock and roll engine," he said. It may come in both a V-8 and a V-12 version.
Tuesday's low-key announcement at the Detroit auto show was made during a radio interview with Marchionne and in various briefings with groups of reporters. There was no prepared statement from Chrysler or Fiat, nor was there any artwork of what the vehicle might look like.
Maserati is a high-end sports car line, known for handmade craftsmanship, powerful performance and prices in excess of $100,000.
Marchionne said Fiat had made great progress in rejuvenating the Chrysler Group's lineup of cars since it took control of the company during its 2009 bankruptcy, although he was characteristically blunt in his assessment of how much work still needed to be done.
"We now have a lineup we're not ashamed of," he said. But he conceded there are some Chrysler models which are just not attractive to consumers and can only be sold to fleet buyers like rental companies.
"To call the [Dodge] Caliber a retail vehicle would be an abomination," he said.
But he stressed that fleet sales declined as a percentage of Chrysler's overall sales throughout 2010, and should decline further in 2011 as new models are introduced.
He announced that Chrysler's target for 2011 sales would be 2 million vehicles worldwide, up from about 1.6 million in 2010. He also said Chrysler is aiming for 10% of the U.S. market this year, up from 9.4% in 2010.
Marchionne repeated earlier statements that he hoped to hold an initial public offering of company shares sometime this year.
The majority of the Chrysler's stock is owned by a union-controlled trust fund. The Treasury Department holds a 9% stake in return for the federal government's bailout of Chrysler last year.

Marchionne said Tuesday said it is likely that Fiat will move to raise its stake in Chrysler Group to 51% from its current 25% before the IPO, through a combination of hitting pre-determined performance milestones and the purchase of additional shares.