IBM's Jeopardy supercomputer beats humans in practice bout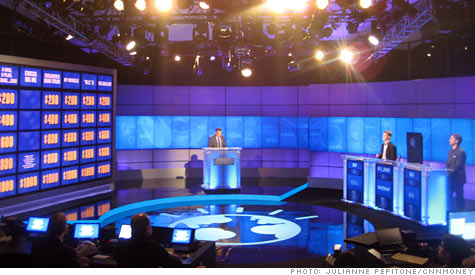 YORKTOWN HEIGHTS, N.Y. (CNNMoney) -- Walking into IBM's Yorktown Heights Research Center feels like entering a time capsule. The rock-covered walls and mod white chairs are super-'70s, and the wall clocks look like they belong in an old elementary school next to those clanging red bells.
But the mob of journalists who arrived at the lab on Thursday came for an event that focused on cutting-edge innovation. Next month, IBM's Watson supercomputer will do battle on Jeopardy with two of the show's all-time top human champions. IBM offered a sneak peek this week at a practice round -- overseen by Alex Trebek, on a replica Jeopardy set IBM spent $1 million to build.
Watson, IBM's natural-language processing supercomputer, is surprisingly cute and anthropomorphized. "He" appears as a black rectangle with a globe avatar sitting between his future rivals, Jeopardy champs Ken Jennings and Brad Rutter, who also came to Yorktown Heights for the practice bout.
The Jeopardy categories appear across the screen. The round includes "A man, a plan, a canal...Erie!" and "Chicks dig me."
Jennings quips, "I've never said this on TV -- 'Chicks dig me' for $300.'"
The audience laughs -- and then roars when Watson later intones, "Let's finish up 'Chicks dig me.'"
Watson doesn't answer any questions incorrectly, but the machine stays silent throughout the "Children's Books" category, which Jennings sweeps.
The whole setup is wonderfully cute and a ton of fun, but there's a lot of advanced tech going on here. IBM says Watson could have deep implications for practical situations.
Inside Watson's heart, soul and hardware: Watson, which takes its name from the surname of IBM founder Thomas J., is a computing system that aims to "understand" language as humans naturally speak it.
That's no easy feat for a computer. Human language is full of subtleties, irony and words with multiple meanings. IBM has been working on the project for several years.
To do this, Watson's researchers loaded their machine with 200 million pages of text. Watson uses that data to analyze contextual clues and figure out how words relate to each other.
Take the Jeopardy example. Watson processes the questions by considering many factors, ranging from straightforward keyword matching to more complex challenges like homonyms (the bark of a tree is not the same as a dog's bark) and statistical paraphrasing ("Big Blue" is the same thing as "IBM").
Watson runs through its databases to come up with an answer, and it will only "buzz in" if it reaches a set threshold of certainty. That's a massive number of tasks occurring at the same time.
But Watson is able to do this quickly thanks to software that runs on a 10 refrigerator-sized racks of IBM Power7 systems. The machine is a grandkid to Deep Blue, the chess-playing IBM supercomputer that trounced world champion Garry Kasparov in 1997.
Practical applications: IBM researchers say they avoided merely loading Watson up with countless databases because they want the technology to work for any person or company looking for quick answers.
David Ferrucci, IBM's lead researcher on Watson, said in a question-and-answer session that the company sees huge potential in the health care area. Watson could help doctors more accurately diagnose patients, he suggested.
Other business applications include online self-service help desks, tourist information centers, customer hotlines and more, IBM says.
So who won the "Jeopardy!" practice run?! Watson won! Too bad, humans!
In a 15-question round, Watson fielded about half of the questions -- and got none wrong. The computer netted $4,400, nearly quadrupling Rutter's score and beating Jennings by $1,000.
Jennings and Rutter also sported a perfect track record on their answers. The final margin seemed to come down to who could buzz in the fastest.
The real competition will be a series of matches that will air on television on February 14, 15 and 16. First place wins a cool million, second place takes home $300,000 and third place nets $200,000.
IBM (IBM, Fortune 500) will donate 100% of Watson's winnings to charity, while Rutter and Jennings each said they will donate 50% of their prizes.