Intel posts best fourth quarter in company history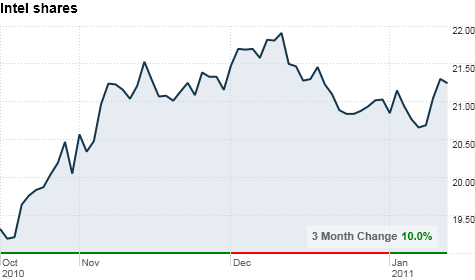 NEW YORK (CNNMoney) -- Intel Corp. reported the best fourth-quarter earnings in company history Thursday, as both the chipmaker's revenue and profit set new records.
Intel posted earnings per share of 59 cents. Analysts polled by Thomson Reuters had forecast earnings of 53 cents per share.
Revenue for the Santa Clara, Calif., company rose 8% over the previous year to $11.5 billion, topping analysts' forecasts of $11.37 billion.
"2010 was the best year in Intel's history. We believe that 2011 will be even better," Paul Otellini, Intel president and CEO, said in a written statement.
Revenue from Intel's closely-watched Atom microprocessor and PC group was flat compared to the prior quarter, while its data center group posted a 15% increase in revenue.
The current quarter looks to be strong as well.
"The guidance for the first quarter of 2011 was much better than people expected," said Daniel Amir, an analyst at Lazard Capital Markets. "That was a positive surprise."
Amir said Intel's new Sandy Bridge processor line is likely to boost revenue. The bottom line will also be helped by an extra week in next quarter's calendar.
Meanwhile, the company's gross margin in the fourth quarter was 67.5%, above expectations and slightly improved from last quarter's 67%.
The strong quarterly results pushed Intel to new full-year highs as well. Revenue of $43.6 billion, operating income of $15.9 billion, net income of $11.7 billion and earnings per share of $2.05 all set records.
Intel is a closely watched bellwether by analysts. A strong showing by Intel tends to indicate increased demand for tech spending by consumers and businesses -- a sign that the economy is improving.
It's already been a busy week for the chip manufacturing sector.
On Monday, Intel (INTC, Fortune 500) announced a $1.5 billion, six-year agreement with graphics chip-maker Nvidia that will allow Intel access to patents for graphics chips.
And chip maker AMD (AMD, Fortune 500) announced the immediate resignation of CEO Dirk Meyer, sparking uncertainty about what the future holds for Intel's chief rival.