U.S. prices rise as global inflation heats up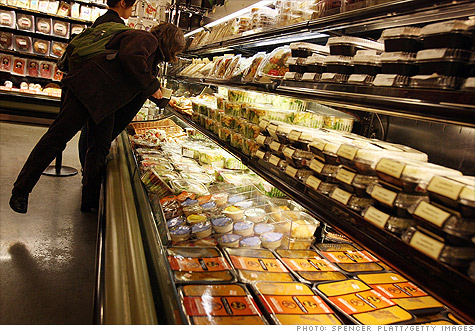 NEW YORK (CNNMoney) -- American consumers saw prices rise on everything from rent to food to gas last month, as inflation pressures around the world creep higher.

The U.S. Consumer Price Index, a key measure of inflation, increased 1.5% over the past 12 months ending in December, up from 1.1% in November, the Bureau of Labor Statistics said.
On a monthly basis, CPI rose 0.5% in December, from 0.1% growth the previous month -- the largest monthly move since June 2009. Economists surveyed by Briefing.com had expected a 0.4% rise in December.

Most of that increase was due to gasoline prices, which surged 8.5% in December alone, as commodities rallied.
While the increase is a sign that the economy is picking up steam, higher prices can eat into the purchasing power of Americans at a time when unemployment is still high and wages are barely growing.

"It is disconcerting that inflation is starting to accelerate, and you have to wonder, with gas prices moving above $3 a gallon, whether the rate of inflation will continue to escalate," said Bernard Baumohl, chief global economist with The Economic Outlook Group.
Even though American consumers are beginning to feel the pain of surging commodity prices at the gas station, they're still not feeling it at the grocery store, where prices ticked up a mere 0.1% during the month.
Sooner or later, economists argue, producers will have to pass on the cost of rapidly rising agricultural prices, which surged more than 60% in the second half of 2010.
Core CPI, which strips out volatile food and energy prices, is still at a historic low, after rising a mere 0.8% for the entire year, and only 0.1% for the month.
Rising prices around the globe
While prices are increasing worldwide, U.S. inflation still lags behind that of its major trading partners.
The euro zone recently reported its CPI rose 2.2% in 2010, while China's CPI rose 5.1% in the 12 months ending in November.
Stripping out some of the volatile components, the three are much closer in line, with Europe reporting a 1.1% increase in core inflation for the year, and China reporting a 1.9% increase in inflation, minus food prices.

"In general, what you're seeing is the U.S. has the lowest rate of inflation, although not way out of line," said Jay Bryson, global economist with Wells Fargo.
Meanwhile, central banks around the world are pursing different policies to combat inflation.

In November, fears of sluggish inflation led the U.S. Federal Reserve to initiate a controversial $600 billion bond-buying program to stimulate the economy. Critics have argued that the move, referred to as quantitative easing, may cause inflation to rise too rapidly.
"If the economy is growing on its own, is it really a good idea for the Fed to continue to pursue quantitative easing?" Baumohl said. "The concern is now, the Fed may be behind the curve, as far as controlling inflation down the road."
China's economy, on the other hand, is hurling ahead so rapidly that its central bank is trying to ease on the brakes. After hiking interest rates twice last year, the People's Bank of China raised the level of reserves banks are required to hold to a record high on Friday.
It marked the seventh time in the last year that the bank has used higher reserve standards to try to pull money out of the economy and tame rising prices.
Europe, on the other hand, is struggling with a debt crisis and a much slower economy than the emerging markets. But its inflation numbers came in greater than expected in 2010, leading European Central Bank President Jean-Claude Trichet to turn slightly more hawkish on global inflation on Thursday.
Noting the rapid growth in emerging markets, he indicated rising inflation could be a worldwide threat going forward.
"Inflationary threats present some kind of general feature in the emerging world; it's something you don't see necessarily in advanced economies," Trichet said. "It's clear that it is extremely important that we all keep control of inflation expectations, and that calls for appropriate decisions."
The comments led some traders to forecast an ECB interest rate hike sooner than originally expected.