GOP lawmaker: I can cut $153 billion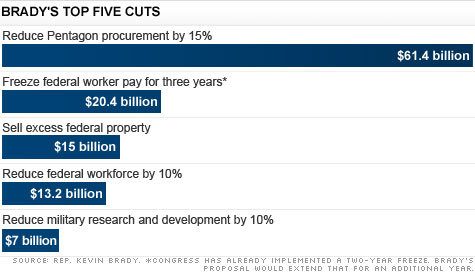 NEW YORK (CNNMoney) -- President Obama's bipartisan debt commission last month put out a big list of possible spending cuts that some thought would simply fade into memory.
Not so fast, says a Republican lawmaker from Texas with a hankering to slash the federal budget.
Rep. Kevin Brady has incorporated two dozen commission proposals into legislation he has introduced in the House. The bill, which also cherry-picks ideas for cutbacks from past federal budget proposals, is the most detailed debt-reduction plan thus far in the new Congress.
Brady's bill would slash government spending by $43 billion in the first year and by $153 billion over five years. The main items: slash $70 billion in military spending, freeze federal worker pay and reduce the government's workforce.
Those aren't the only big tickets. Brady wants to cut White House and congressional budgets to save $3.8 billion over five years and sell excess federal property to raise $15 billion.
Brady sits on the powerful House Ways and Means Committee and serves as vice chairman of the Joint Economic Committee, placing him at an important intersection for the impending budget battle.
Putting portions of the fiscal commission's plan into legislative form is a step in the right direction, according to Isabel Sawhill, an economist who studies fiscal issues at the Brookings Institution.
"I think the commission did a wonderful job of being specific and putting together a bold plan," Sawhill said. "This is how many of us hoped the commission's work would be used."
Sawhill gives Brady credit for making specific proposals. But the legislation shies away from the overhaul of the tax code and changes to Social Security favored by the president's commission.
"Congressman Brady has cherry-picked a bunch of spending issues and hasn't balanced that off with any revenues or work on entitlements," Sawhill said.
Brady says he believes he can get "strong bipartisan support for these savings."
"Frankly, there are cuts in the bill that even I don't like," Brady said.
"As a strong supporter of defense, I wish we didn't have to make cuts there, but with these dangerous deficits there can be no sacred cows," he said.
The bill does include steep cuts to military spending -- a political third rail during a time of war.
The proposal cuts almost $70 billion over five years by reducing Department of Defense procurement ($66 billion), while scaling back research and development ($7 billion) and base support ($2 billion).
What remains unclear is how Brady's proposal will fare in an already crowded House legislative calendar, and a Senate controlled by Democrats.
Lawmakers have yet to approve a budget for fiscal year 2011, instead relying on a series of temporary extensions to keep the government open, the latest of which expires in March.
Obama is expected to introduce his 2012 budget in February. Around the same time, Congress will be forced to consider raising the debt ceiling.
Meanwhile, the Republican leadership is planning a series of rescission bills -- which will pull back funds that have already been approved -- and hold weekly votes on spending cuts as part of the YouCut program.
"I see it as one of several ideas being proposed," Brady said.
"I think [the House Republican] leadership is still determining strategy, and whether this will be incorporated into the plan ... I don't know if it's been determined yet."