Meet the newest GoDaddy Girl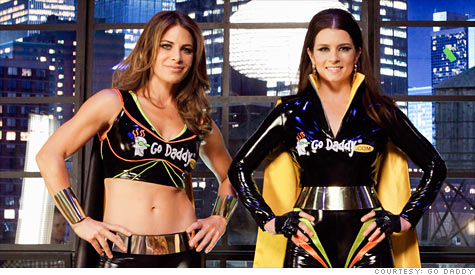 NEW YORK (CNNMoney) -- GoDaddy.com has added work-out taskmaster Jillian Michaels to its roster of "GoDaddy Girls."
Michaels will appear in two GoDaddy commercials during this year's Super Bowl broadcast on Feb. 6. She will be co-starring with race car driver Danica Patrick, who's been the face of the Web domain registrar for years. They'll be wearing superhero costumes in at least one of the 30-second spots.
A personal trainer and martial artist, Michaels is best known as the hard-driving fitness overseer on NBC's "The Biggest Loser" -- a television show where obese people, weighing as much as 510 pounds, compete to lose the most weight.
But she's also a one-woman corporation. Michaels has produced popular workout videos, like "30-Day Shred" and "Yoga Meltdown;" and authored best-selling books, like "Master Your Metabolism." She also has her own Wii game, called "Fitness Ultimatum."
Michaels is one of the highest profile individuals to appear in GoDaddy.com's ads, which have acquired a reputation for their risqué nature. The company's commercials often feature scantily clad women and off-color jokes.
Some of the ads have been rejected prior to their Super Bowl screenings -- including a commercial that used a crude reference for female genitalia, and another depicting a gay man named Lola.
The newest GoDaddy addition didn't immediately respond to questions from CNNMoney as to whether the company's image would clash with her own image of self-empowerment. But her prepared statement showed no sign of a conflict.
"It doesn't get much bigger than being in a Super Bowl commercial," Michaels said. "I think shooting a spot with Danica Patrick is going to be a blast."
Bob Parsons, the chief executive and founder of GoDaddy.com, announced on Twitter in September that Michaels would be joining the girls of GoDaddy.
"I am stoked about Jillian being a GoDaddy Girl," Parsons said. "She's smoking hot -- she's also edgy and smart."
Fox Television is broadcasting the game this year for the sixth time.