Who has the best job? Jobs, Buffett or Snooki?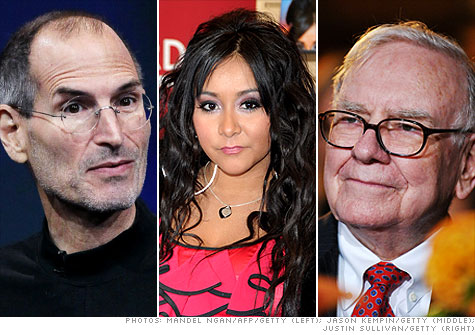 NEW YORK (CNNMoney) -- Hardly anybody says they want to be Snooki when they grow up, according to a recent survey by staffing firm Adecco.
Despite the big payday and easy access to the beach, most Americans don't envy the life of the reality TV star. In fact, just 3% said they would want Nicole "Snooki" Polizzi's job as star of MTV's hit Jersey Shore, according to Adecco's survey.
Comparatively, more than a third -- or 34% -- of those surveyed said they most want to have either Steve Jobs' position as CEO of Apple (APPL) or Warren Buffett's role as investor and chairman of Berkshire Hathaway (BRKA, Fortune 500).
Snooki's manager Danny Mackey says he's not surprised. "Her schedule, especially right now, is tiring. Between media requests and the demands of appearances, she goes nonstop," he said.
"Days start at 5 a.m. and end at midnight," Mackey added. "She's going from the East Coast to the West Coast. It doesn't allow for personal time, that time with friends and family. There are days when she's having a blast but other days she would just like the day off."
Other celebrity jobs deemed desirable included: President Obama's, Martha Stewart's and Anderson Cooper's gig at CNN.