Will Netflix stock go even higher?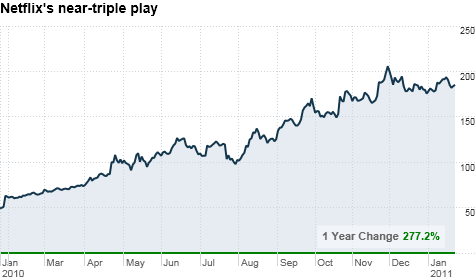 FORTUNE -- Netflix stock is riding high, with a share value that has nearly tripled within the past year. As the movie distributor prepares to announce its fourth quarter earnings later today, we asked two analysts to weigh in on whether the company can make good on the market's enthusiastic expectations. Here's what they had to say:
Bull: Jason Helfstein, Oppenheimer & Co.
We upgraded the stock in October, with a 2011 price target of $200. It's at $185 now. Lots of things were supposed to hurt Netflix (NFLX) last year. The cable industry should have teamed up with Hulu. Hollywood should have stopped licensing content to Netflix at low prices. Those things didn't happen. Netflix has first-mover advantage: A new competitor -- Amazon (AMZN, Fortune 500) wants to launch a service, for example -- has to write a bigger check for content. And every day they don't, Netflix gets more customers. The stock's valuation will depend on how many customers Netflix can get and what it can charge. We think it can hit 50 million subscribers and raise prices. The business grew on quality of service. You pay $100 or $150 a month to a cable company you don't like, so who wouldn't pay another couple dollars for a cheaper product they do like?
Bear: Marianne Wolk, Susquehanna Financial Group
We have two main concerns. One is that expectations are just too high. At current valuations, investors are making unreasonable assumptions -- for example, that Netflix can penetrate 75% to 80% of U.S. households. That would be on par with the VCR. This is a company that currently has only about 11 million streaming subscribers and a churn rate of 45% a year. The other big concern is the exploding cost of content. To go from being a niche product to a mainstream product they'll need a lot more content and a much richer base of new TV and movie titles. But the success of Netflix is waking up a lot of content owners to its value. Meanwhile, we think subscriber acquisition costs are going up too. Bottom line: Investors who think margins are flat to rising are overly optimistic.