Cold January turning into hot IPO market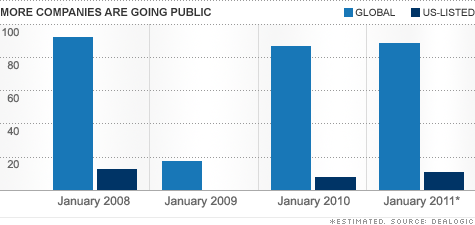 NEW YORK (CNNMoney) -- The appetite for initial public offerings is heating up ... with eight companies slated to go public this week alone.
On Wednesday, media rating company Nielsen (NLSN) and online content creator Demand Media (DMD) made their public debut.
Shares of Nielsen rose nearly 9%, while Demand Media's stock ended 32% higher. Both companies' IPOs priced above their offering ranges.
Nielsen, which was owned by a consortium of private equity firms, raised $1.9 billion, including $250 million from a bond offering. That makes Nielsen the biggest IPO so far this year and the largest since GM went public last November.
Demand Media, which creates Interest-based content for sites, raised $151.3 million. The IPO gives the Internet content company a market cap of $1.5 billion, marking the highest market capitalization for an Internet company since Google's IPO in 2004, according to IPO research firm Renaissance Capital.
LinkedIn filed for its own public offering late Thursday. The business social networking site revealed that it turned a profit of $10.1 million on revenue of $161 million in the first nine months of 2010.
While 2009 and 2010 were dominated by financial companies and General Motors (GM), 2011 so far as been "a mixed bag," said Ben Holmes, publisher with Morningnotes.com.
"January has been an extension of the flurry of activity we saw at the end of the third quarter last year," Holmes said.
By the end of January, 88 companies are expected to go public worldwide, according to data from industry tracking firm Dealogic. That would mark the biggest January by deal volume since Dealogic began tracking IPOs in 1995.
While the global IPO has steadily climbed as companies in countries like China and India became more active, the U.S. IPO market hasn't seen this dollar volume since the dotcom era.
U.S.-listed companies are expected to raise around $3.8 billion this month, according to Dealogic, compared with the $4.37 billion raised in Jan. 2000.
This year, 10 U.S. companies are on tap to go public by the end of the month, compared with eight in January 2009 and only two in January 2008.
"The rapidly building IPO calendar augurs well for what lies in store for the months ahead," said Renaissance Capital analysts in a research note.
After basically shutting down during financial crisis and credit crunch of 2008, companies have slowly returned to the equity markets as a way to raise capital.
And private equity firms, such as Kohlberg Kravis Roberts and Blackstone Group, are also clearing their decks, as seen in the case of Nielsen.
"The private equity firms are always going to be opportune sellers and with the market being so positive in recent months, private equity firms are trying to get ahead of it," Holmes said.
BankUnited is another private equity-owned company going public this week, with analysts expecting the IPO to raise around $600 million.
Looking ahead, investors are also speculating that large tech names like Groupon and Facebook could file for their IPO within the next 12 to 18 months.
The large slate of IPOs so far this year should provide a decent financial windfall for Wall Street's major investment banks, including Goldman Sachs (GS, Fortune 500) and Morgan Stanley (MS, Fortune 500). Both Goldman and Morgan were among the lead underwriters for today's IPOs of Demand Media and Nielsen.