2011 housing market will be pancake flat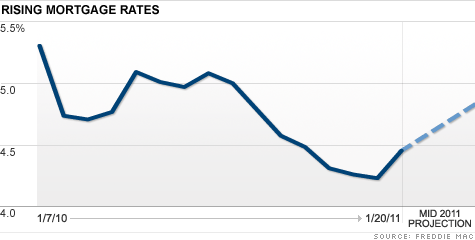 NEW YORK (CNNMoney) -- Housing markets will remain flat, flat, flat in 2011, according to forecasts from the Mortgage Bankers Association.
The organization, which represents more than 80% of the nation's mortgage business, predicts that overall home sales will inch down 0.1% during the year. Sales of existing homes will fall 1% to 4.82 million, and new home sale will rise 10% to 358,000.
The MBA attributes the sales decline mostly to slow economic recovery and high unemployment. Until hiring picks up, the market will continue to struggle.
The MBA has also reduced its forecast due to recent credit liability issues affecting banks, according to its chief economist, Jay Brinkmann.
Investors in mortgage backed securities have started demanding that lenders repurchase loans that are in default. The threat of having to repurchase these loans has made banks reluctant to lend, especially, Brinkmann said, to borrowers without the highest qualifications.
"That will hold down originations, on the edges, until the issue is resolved," he said.
Rising interest rate will also remove some potential home purchasers from the market, although not many. Rates, according to the MBA forecast, will rise very little in 2011, to an average of 5.3% from 4.7% in 2009.
Still, that increase adds more than $36 a month to mortgage payments for every $100,000 borrowed.
All these factors will contribute to a whopping 36% decline in mortgage origination dollar volume in 2011, to $966 billion.
The biggest culprit will be a nosedive in mortgage refinancing. During 2010, refis accounted for about 69% of all mortgages issued. In 2011, the MBA expects that to drop to 36%.
With rates at or near historic lows during 2010 -- near 4% for the benchmark 30-year fixed-rate loan -- most borrowers who could refi higher interest loans have already done so. And with rates set to top 5% this year, the number of borrowers who would benefit from a refi will drop.
With home sales slow and inventories still high, the MBA does not anticipate much movement in home prices. It forecasts the median existing home price to decline $200 in 2011 to $172,800. Prices for new homes will drop 1.3% to $214,600.
The organization does not expect a strong recovery in 2012 either. It anticipates a median home price of $174,900 that year, a 1.2% rise compared with 2011, for existing homes. For new homes, it sees a 1.7% increase to $218,400.
Sales volume believes sales volume will jump 16.4% to more than 6 million homes sold in 2012, but that's still a far cry from the boom years, when more than 8 million homes were sold at the peak.