Site crashed? No prob, here's a kitten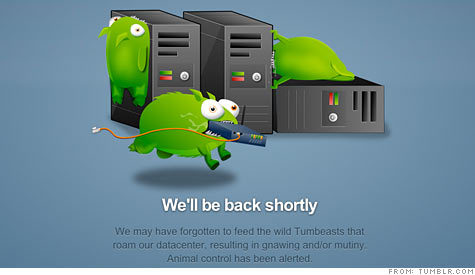 NEW YORK (CNNMoney) -- Blogging site Tumblr has experienced many of the problems that come with scaling up: downed servers, database bottlenecks and other glitches. When it crashes, users get cranky.
But this week, the site took a big step forward toward appeasing them. A giant new data center? A multimillion-dollar IT overhaul?
Nope. A furry green mascot to liven up its error screen.
Tumblr's old crash messages were staid black "we'll be back shortly" missives. A Tumblr blogger, author/illustrator Matthew Inman of webcomic The Oatmeal, decided that was hopelessly outdated. He created a new one, featuring pop-eyed green mutant (but cute!) monsters, and launched a grassroots campaign to get it adopted.
"The site is beautifully designed, but their error page was so freakin' boring," Inman says. "I had drawn these little monsters about a year ago, and I felt like this was a good time to bring them out."
Tumblr agreed. Just hours after Inman blogged his creation, the company revamped its error page to feature the "Tumbeasts" -- who now have their own Tumblr and Twitter pages.
Amusing error mascots are popular with users, but they can also deliver a bottom-line payoff: Being direct about screw-ups often strengthens users' faith in a brand.
"The spirit of transparency is the new order," says Michael Gaiss, senior vice president at branding consultancy Highland Capital Partners. "Plus, being funny probably lightens the bad press around problems."
The most iconic of these efforts is Twitter's "Fail Whale" -- the microblogging site even refers to errors as "whales" in its system status updates. Twitter's history of crash whimsy runs deep: Before it introduced the whale, it had the error kitten.
Giant Google (GOOG, Fortune 500) has jumped on the trend. Google Books piggybacked on Twitter's theme, creating its own Moby Dick-esque Fail Whale for when the service "is having trouble finding that page."
Music-streaming service Pandora lacks a cuddly mascot, but it keeps things light when there's a site problem, telling visitors: "Oh, man. Our servers must be down or something." The message also includes links to "other things to explore," including Twitter and SonicLiving.
Gaiss warns that an amusing error message can carry a company only so far. Eventually, the website is going to have to work consistently.
Inman can't wait to see his Tumbeasts in action -- but even he doesn't want to see too much of them.
"I remember for about a week I liked the Fail Whale, but after that I hated it so much," he says. "That hatred can poison any happy little animal."