How to make money in China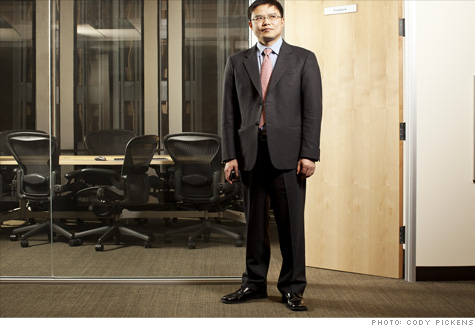 FORTUNE -- What's the right way to play China? Perhaps no investor knows the answer to that question better than Richard Gao, who has run the $3 billion San Francisco-based Matthews China Fund (MCHFX) since 1999.
Over the past decade Gao, 43, has produced an annualized return of 19.7%, vs. 14.2% for the MSCI China index and 1.4% for the S&P 500. A native of Guangzhou and a onetime loan officer and trader at the Bank of China, he travels to the mainland several times a year. Gao shared his take on whether the country's fast-growing economy is headed for trouble, as well as where he sees opportunities for his investors.
Q. How worried are you that the Chinese economy is overheating?
A. Real estate and inflation are among the biggest risks for investors in China, and we're taking them very seriously. But keep in mind that this is not the first time China has faced runaway inflation. In the early 1990s, just a year or two after former leader Deng Xiaoping implemented stimulus policies, economic growth overheated. Inflation rose to as high as 22% in that time. It took several years for China to implement an austerity program.
Currently the inflation rate is close to 5%, vs. the government target of 3% for 2010. But China has a lot of tools it can use to achieve a soft landing.
Do you think Beijing will revalue the yuan to help curb inflation?
How China handles appreciation of the yuan is somewhat related to inflation, and it's a policy risk on its own. If the currency appreciates at a substantial rate, it would have a huge negative impact on the economy, especially export-related industries. Lower-end manufacturers, like toy- and shoemakers, are already operating with very thin margins, and they could be wiped out. Value added by exports accounts for 10% to 15% of the country's GDP.
What about real estate? Some, like hedge fund manager Jim Chanos, have warned that it's a bubble.
I don't agree that the overall Chinese property market is in a bubble. Overheating is occurring predominantly along the coasts and in the wealthiest cities of Beijing, Shanghai, and Guangzhou. In these places, high-end real estate is appreciating very fast. While these bubbles are starting to spill over to second- and third-tier cities, keep in mind that leverage is generally still very low. The required down payment is 20%, and people typically put down 40% to 50% of the price. If prices slow or fall, people have an incentive to stay in their homes and pay their mortgages because they have already invested so much equity.
What are the big themes driving your investments in China?
While China has relied on exports to grow its economy, we've had very little pure exposure to the exporters or original equipment manufacturers that rely on exports to succeed. Instead we are focused on domestic consumption, where there has been steady growth over the past two decades as the country transformed from a socialist economy to a true market economy. When China began its economic reform program, the average per capita annual income was around $370. Now it's close to $3,500 a year, and the middle class is really growing. Even in 2008, when the country's export numbers were negatively affected by the global slowdown, domestic retail sales numbers were up by around 18%.
So how are you betting on the Chinese consumer?
Since the Matthews China Fund began, we've followed consumer consumption patterns -- first investing in companies that manufactured basic necessities, like refrigerators, and then those that made phones and cars. Now, as the middle class grows, we're focused on service sectors.
Right now we're overweight in areas like consumer discretionary and consumer staples, the financial sector, and IT. In the consumer space we're interested in hotels, airlines, department stores, supermarkets, and auto companies. In IT we like software, online gaming companies, and telecom-equipment manufacturers.
One interesting category right now is health care. Everyone needs it, fewer employers are providing it, and the sector is growing very fast. The tricky thing about investing in health care is that markets from device makers to prescription drugs are fragmented, and there is a lot of government control over pricing. We're investing in the few companies that provide health insurance, such as Ping An and China Life.
Another example of a company riding this consumer growth wave?
We've held an enterprise resources planning company called Kingdee for nearly five years. It's based in Shenzhen and makes financial management software for small companies. It had a tiny market cap of $200 million to $300 million when we found it; it's now over $1 billion. But after talking to a lot of small to medium-size businesses about their software needs, Kingdee was often mentioned. It turned out that the company has a huge customer base of more than 400,000 customers, all of whom would be ignored by large players like SAP and IBM.
Kingdee entered the market as the low-cost provider that meets the basic needs of smaller companies. And as its customers have grown, Kingdee has begun to provide more products, including HR, customer relations, and supply-chain software.