Job market looks stronger ahead of Friday report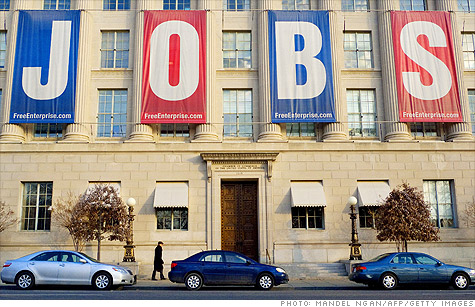 NEW YORK (CNNMoney) -- The job market started 2011 on solid footing, according to two separate reports released Wednesday.
Payrolls among private employers rose by 187,000 in January, payroll processor ADP said. Analysts polled by Briefing.com were predicting 145,000 jobs added for the month.
A separate report showed planned job cuts increased in January, which is not unusual for the first month of the year. But it was the lowest number of January job cuts on record.
Employers announced plans to cut 38,519 jobs in January, a 20% increase over December, according to outplacement consulting firm Challenger, Gray & Christmas. The level indicates that the low downsizing rate from late last year may very well continue into 2011.
"It is not unusual to see job cuts increase in January. In fact, 2011 marks the fifth consecutive year and the tenth out of the last twelve in which January job cuts surpassed the December total," said John Challenger, CEO of Challenger, Gray & Christmas in a statement. "What made this January figure so unusual is that it was so low."
According to Challenger's data, January is the worst month on the calendar for layoffs. From 1993 through 2010, employers announced an average of 104,560 job cuts to start the year.
The ADP and Challenger reports typically set the tone for the government's highly anticipated monthly employment data, due Friday.
While both reports signal solid job growth for the month, economists still say the recovery will continue to be slow over the next year.
"You're going to see a better hiring picture as a whole in 2011," said Tim Quinlan, an economist with Wells Fargo. "We hired just over a million total jobs last year, and you'll probably see that number creep up."
"The problem is that improvement won't be enough to make a substantial change in the unemployment rate this year," he added.
Economists are also cautious about completely trusting the ADP and Challenger reports. For the last six months, the ADP figure has missed the government's reading on private payrolls by an average of 96,000 jobs, said Jennifer Lee, an economist with BMO Capital Markets.
Ahead of the Friday jobs report, economists surveyed by CNNMoney are predicting the economy added 149,000 jobs and the unemployment rate ticked up to 9.5% in January.