How Southwest won the fee wars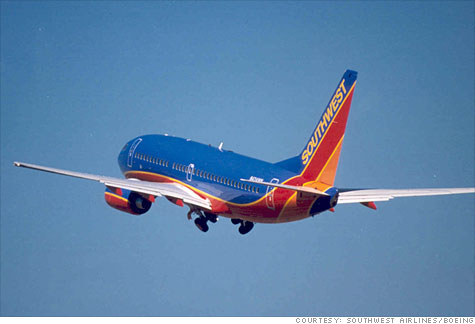 FORTUNE -- Airlines are pulling all kinds of tricks to cope with the fact that it's getting more expensive to fuel their planes. Fuel prices in general have been increasing steadily since 2009 and they're only predicted to continue rising. This week the price of crude skyrocketed to $100 per barrel based on uncertainty about how protests in Egypt would affect the market.
Many airlines are hoping to offset those costs with higher ticket prices and extra fees for things like changing flights, more legroom or checking bags. Last week, Jet Blue (JBLU) said it expectsfuel costs to rise by 17% in the first quarter of 2011 over the previous quarter. It raised ticket prices and added new fuel surcharges on certain flights. And it's not ending there -- the airline said it expects to garner 20% more in revenues from fees this year.
Jet Blue isn't alone, and these extra fees are working for the airlines, even if they're hurting consumers. In the first nine months of 2010, checked baggage and changing ticket fees reportedly raked in $4.3 billion for airlines. For the first time in years, some of them are starting to turn profits.
But what's good for the income statement in the short-term could hurt long-term market share. Added fees, while an easy way to make quick cash, can damage an airline's brand. "The vast majority of consumers don't like surprises," says Dave Hopkins CEO of airline consulting firm Air Transport Business Development. And they especially don't like surprises in new fees.
There's still one lone major carrier that hasn't jumped aboard the fee bandwagon: Southwest Airlines (LUV, Fortune 500). While that means that Southwest misses out on low-hanging fruit, some analysts believe that it will be rewarded from resisting the fee frenzy. Southwest reported a net income of $131 million for the fourth quarter of 2010, compared to $116 million during the same time last year.
Morningstar analysts refer to Southwest as "the healthiest company in the airline industry," and they say that the company's decision to forego checked baggage fees helped steal market share from competitors.
No surprises
Like its competitors, Southwest will still have to respond to increasing fuel prices. It already has. Earlier this month the airline upped prices on several flights throughout the Midwest. The airline acts on the mantra that it's better to tell consumers upfront that a ticket will cost more than to wait for them to show up at the airport and demand more money.
And Southwest does charge for certain services including in-flight Wi-Fi and an optional early check-in. But a company spokesperson says they carefully determine which services customers feel are integral to their flying experience and keep those free.
For years, airlines have been picking apart certain services and charging for them. For example, US Airways (LCC, Fortune 500) and Northwest both charge extra for coach window and aisle seats and American Airlines (AMR, Fortune 500) charges passengers for blankets and pillows.
The argument for these kinds of fees is something called "unbundling." Airlines that charge more for services including blankets, headphones and food argue that their cost was previously rolled into the ticket price. By unbundling the fees, customers who take advantage of services will pay for them. The ones who don't, the argument goes, end up paying less.
But companies have done a poor job communicating that part of the business model to customers, says Jeremy Liu, an airline marketing consultant. He adds it's also not an entirely honest message, since airlines are starting to profit from these fees directly and even those who don't want the extras are paying more for their tickets.
According to a January analyst report by Avondale Partners, Southwest has had measures in place since 2007 to compensate for dealing with the tough economic environment and avoiding unbundling. One of them was to reduce its number of total flights, while increasing the number of destinations. The move allowed Southwest to consolidate flights that weren't filling while still spreading into new markets.
Another way to keep costs low is by having a fuel-efficient fleet. Southwest is in talks now to merge with AirTran (AAI), which would add AirTran's 717 to its fleet. The 717 is smaller than theBoeing (BA, Fortune 500) 737s that Southwest flies now, and the 737s are already more efficient than many aircrafts that other companies fly.
Southwest has also avoided the scramble to monetize online ticket sales -- it never teamed up with the big travel aggregators. Recently, American Airlines (AMR, Fortune 500) has pulled its flights with online travel agents Expedia (EXPE) and Orbitz (OWW) in an effort to push people to its own website to buy tickets and lowering the booking fees that the airline would pay.
Liu says it makes sense for airlines to focus more on their own websites just like phasing out some of the more annoying extra fees will make sense for airlines when the economy improves.
But if other airlines have to bounce back and forth on various policies to get where Southwest is now, they're going to waste time ticking off passengers when they could be filling seats.