How federal spending cuts trickle down to you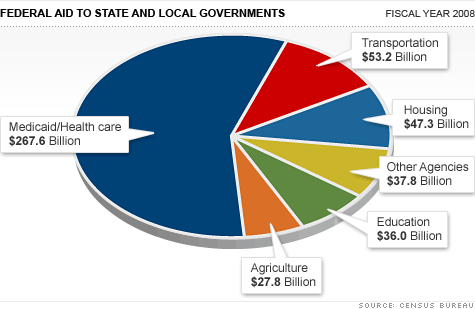 NEW YORK (CNNMoney) -- In their push to downsize the federal bureaucracy, Republican lawmakers are flooding the field with proposals to lower federal spending. But, in a twist, their cuts could hit state and local budgets the hardest.
Congress is singling out a tiny slice of the federal budget -- the less than 15% known as non-security discretionary spending -- for a major rollback.
Almost a third of that money gets funneled through federal agencies like the Department of Education and the Department of Health and Human Services -- and ends up in state and local coffers.
It's funding that states have come to rely upon.
A full 26% of state expenditures in fiscal year 2008 originated in Washington. Two years later, federal funds went up to 35% of state expenditures, according to the National Association of State Budget Officers.
That increase was driven by the 2009 Recovery Act, which temporarily boosted federal aid to states. But those funds are almost all gone, and if Republicans get their way, the Feds will be passing along even less.
"Most states are already facing big budget gaps as far as the eye can see, and those gaps assume a certain level of federal assistance," said Robert Ward, deputy director of the Rockefeller Institute of Government. "If you cut that level, by definition, it makes the future gaps bigger."
A large part of federal money to states helps pay for Medicaid. But substantial sums also flow through the federal departments of agriculture, housing transportation and education.
Take, for example, the Department of Education. It made $36 billion in grants and other payments to states in fiscal year 2008 -- before the Recovery Act kicked in -- according to the Census Bureau.
Cash-strapped California got almost $5 billion from the department, while New York and Texas, both now struggling with budget shortfalls, each received more than $3 billion.
Once the funds make their way from the Education Department to state and local governments, they are used to fund special education, vocational, English language acquisition and adult literacy programs.
"Federal funding is particularly important for special education and for poor urban school districts, said Ward. "The typical suburban school district doesn't get an awful lot of money from Washington, but many urban districts do."
An impending crunch: The threat of cuts come at a terrible time for states and localities. Some have already been forced to make tough cuts due to sharply lower revenue levels, and increased entitlement obligations.
Earlier this month, Texas lawmakers proposed a budget that calls for a 13% hit to public education and a 7.6% drop in higher education support. Among the cuts, funding for pre-K Early Start programs would be slashed, and four community colleges would be closed. California and New York are considering similar plans.
"All governors appreciate the value of K-12 education, but given the shortfall, they have no choice but to make cuts," said Phil Oliff, an analyst who studies state budgets at the Center on Budget and Policy Priorities.
That's setting off warning bells as other states attempt to fund education at current levels, while keeping a watchful eye on Washington for rumblings of reductions in federal aid.
Much will depend on how Washington's budget battle shakes out over the next few months. Some House Republicans want to return non-security discretionary spending to 2008 levels. Others want further reductions, and a rollback to 2006 spending levels.
Two lawmakers, Sen. Rand Paul of Kentucky and Rep. Michele Bachmann of Minnesota, have suggested eliminating the Department of Education altogether.
No matter how deep the cuts, it's hard to predict how states will react.
"Some states assume that a dollar in cuts from Washington means a dollar in cuts at the state level," said Ward. "Others look at it differently, and would try to make up the shortfall."