The 300: Can Chrysler really steal Bimmer and Caddy buyers?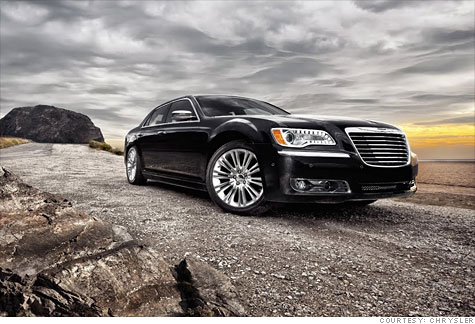 FORTUNE -- The first Chrysler 300 earned its cred in 2004 from two remarkable attributes: an eye-catching Bentley-like exterior and its transmission, derived from the one used in the Mercedes E-Class. yes, it was the German component of Chrysler's former global tie-up developed the 300's world-class transmission technology.
But more than six years have passed. Chrysler's marriage with Daimler AG is history -- though the Detroit-based company maintained custody of the transmission. Now a new spouse, Fiat, is helping to birth a second-generation 300 equipped with the same rear-wheel-drive transmission and a restyling that is far less derivative. Almost nothing else remains from the original model.
The result is a refreshed and elegant full-size sedan with improved ride and handling due to tweaks in the front and rear suspension. The body's proportions are roughly the same, though the sheet metal has been shaped to give the vehicle a more muscular look. The two available engines are the 3.6-liter V6 -- first introduced in Chrysler's Jeep Grand Cherokee last May -- and the bigger and more powerful 5.7-liter Hemi V8.
Starting at $28,000, the base version with cloth seats will compare with Ford's (F, Fortune 500) Taurus and Toyota's Avalon. The top-of-the-line 300C with the larger engine could cost as much as $46,000 with all options, making it a reasonable alternative to GM's (GM) similarly-equipped Cadillac CTS or Ford's Lincoln MKS.
A few shoppers will consider the new 300 a means of engaging in luxury motoring at a deep discount to the $70,000 or more they would have to spend to purchase a BMW or Lexus with similar options and performance characteristics. Naturally a Chrysler not only has none of the prestige of Lexus and others, its very name will be regarded by some as a synonym for taxpayer-sponsored financial bailouts.
"We can't build brand equity overnight,'' said Jiyan Cadiz, a Chrysler spokesman. "The only way to regain credibility is to build great cars, to give customers the quality, reliability and durability they expect."
Sales of the 300 reached a peak in 2006 of 184,920 cars, dwindling to less than 50,000 last year.
This year, with new 300s beginning to show up in dealer showrooms this month and next, could be decisive for the Chrysler-Fiat affiliation, which so far hasn't produced a net profit at a time when most other automakers, notably General Motors and Ford Motor, are making billions. Sergio Marchionne, chief executive, has forecast a profitable 2011, and is preparing for initial public offering of common stock. To achieve these goals he has to sell more vehicles and at higher prices, which is where 300's success could be telling.
If the 300 comes off as a ''smart'' buy for the value conscious, just as Toyota's Lexus LS400 did when it was introduced more than 20 years ago, the entire Chrysler franchise could benefit, in terms of pricing and unit volume. The spillover would help the brand's Town and Country minivan and the 200 (formerly Sebring) midsize sedan.
Which brings us back to cred. I drove the vehicle in California in late January, winding out the V6 and V8 versions through the hills around San Diego and on the freeways. The 300C has every bit the power, road manners and comfort that any luxury-car owner would expect. It certainly was nearly equal, in my view, to the new Audi A8 I drove a few months earlier, which cost nearly twice as much
But will status-conscious luxury shoppers be ready to trade their Bimmers and Caddies for a declasse 300? That's a key test for Chrysler; early chatter among reviewers suggests its new model already could be building a cadre of supporters.