TD Bank killed my favorite freebie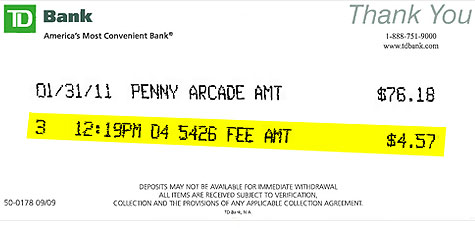 NEW YORK (CNNMoney) -- TD Bank won't count my change for free anymore. And I am super bummed.
The bank quietly phased out my favorite perk last November, but I just found out this week when my wife went down to cash in our stash.
For years, I've loved collecting my change in jars throughout the house, knowing after a few months I'd get some "found money." I've gotten a new tie out of it. Today, it's getting our windows cleaned.
TD still allows its customers to use the machines -- called Penny Arcade -- for free, but I'm not a customer. So, how can I complain?
"Why should we have to wait in line behind non-customers?" asked TD representative Rebecca Acevedo when I spoke to her this week.
I had to grudgingly admit she had a point. Plus, I can still use the service for a 6% fee.
Our latest haul was $76, so we're talking $4.50 for TD. I say it's worth it, if it means I don't have to roll the coins myself.
Still, my wife isn't buying TD's justification. "That's horsesh*t," she said. "I've never seen anyone on line there."
"Clearly it's about TD making more money," she said.
And I've learned that Mrs. Haris is almost always right. Although, it is hard to imagine greedy TD bankers -- who rang up $20 billion in revenue last year -- rubbing their hands together over a bunch of pennies.
Still, it isn't chump change. TD says it processed 31 billion coins in 2009. That means a potential $100 million business if TD charged everyone, and all those pennies, nickels, dimes, and quarters averaged out to five cents.
For now, though, TD says it is only trying to lure former coin-redemption fans into becoming customers. "The benefit has been with opening accounts -- we've seen a good increase," said Acevedo.
Mrs. Haris says there's no way we're opening an account there now. But for what it's worth, lollipops and dog biscuits are still free for all.