AOL acquires Huffington Post for $315 million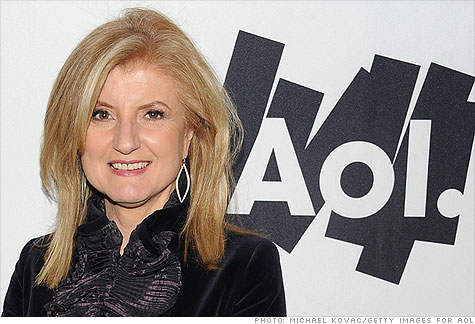 NEW YORK (CNNMoney) -- AOL, the online media company that has recently snatched several smaller content firms, has agreed to purchase news blog service The Huffington Post for $315 million, the two companies announced Monday.
The companies said Arianna Huffington, The Huffington Post's co-founder and editor-in-chief, will be named president and editor-in-chief of The Huffington Post Media Group, which will include all Huffington Post and AOL content.
Huffington Post is known for its political coverage, with a left-of-center bent, as well as blogging about sports, entertainment and local news in selective markets.
An executive on an AOL-Huffington Post call with reporters said that Huffington sales are expected to reach $50 million in 2011. Huffington says her company is profitable.
Arianna Huffington told CNN's Christine Romans in an e-mail message that her blog has 26 million unique visitors a month, a Web traffic measurement used by marketers. She said AOL has a total of 110 million unique visitors a month in the United States and 250 million unique visitors worldwide.
Huffington said that among her goals for the deal is "to do so much more in the living space especially for women, (and) to do more and more original reporting telling the stories of our time and putting flesh and blood on the economic data."
In an online posting, Huffington compared the impending merger to "stepping off a fast-moving train and onto a supersonic jet."
The boards of directors of each company and shareholders of The Huffington Post have approved the transaction, but the proposed transaction is subject to customary closing conditions, including receipt of government approvals, the two companies said.
The transaction is expected to close in the late first- or early second-quarter of this year, according to the statement.
This is AOL's (AOL) latest acquisition in its effort to gain a stronger foothold in the online media world it once dominated. Among the company's acquisitions last year were the blog network TechCrunch, the online video distributor 5Min Media and social media company Thing Labs.
AOL is paying for most of the Huffington Post purchase in cash, eating up more than 40% of the $802 million AOL had on hand at the end of last year. For the first nine months of 2010, AOL turned a profit of $6.5 million on sales of $1.8 billion.
-- CNNMoney staff writer Aaron Smith contributed to this report.