Nervous about U.S. debt? You're not alone.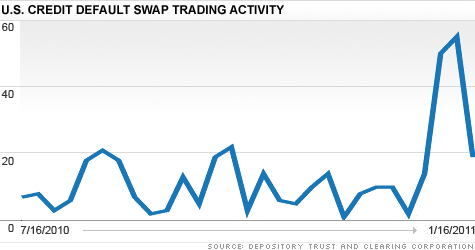 NEW YORK (CNNMoney) -- More investors appear to be betting that the United States' ever-rising debt load is going to get worse and are working to protect themselves against it.
In the past year, a growing number of investors are buying what's known as credit default swaps on AAA-rated nations like the U.S., U.K. and Germany. There has been a 75% increase in activity in the U.S. debt market alone.
Billions of dollars in AAA-rated sovereign debt are now packaged in the CDS market. The growing interest in these products highlights a notable, but small, number of investors who feel the need to protect themselves financially from even the low possibility that the U.S. could default on its debt.
However, investors in this market said a notable percent of people playing with these securities are hedge funds looking to profit off of just the fear of default.
But first, a quick refresher. You probably remember hearing a lot about credit default swaps during the height of the financial panic. These instruments, commonly known as a CDS, allow an investor to purchase a form of financial protection in case a borrower -- usually a major company -- defaults.
Massive bets on credit default swaps, and similar alphabet soup-like derivatives in the wake of the subprime mortgage meltdown, are one of the reasons why banks like Lehman Brothers and insurance company AIG (AIG, Fortune 500) imploded.
Since the European debt crisis began more than a year ago, interest in credit-default swaps has been on the rise again. This time, the swaps are being written not on residential mortgages and the financial firms with ties to them, but on the debt of countries.
Critics fear these instruments could be used by speculators to attack fiscally challenged governments.
For now, the market for U.S. CDS products is relatively small and illiquid. But it's growing. Data provided by the Depository Trust and Clearing Corporation, a clearinghouse of over-the-counter products, shows 678 CDS contracts trade on U.S. debt, up from 392 contracts a year ago.
The gross exposure of those contracts -- or the total amount of U.S. debt being protected -- is around $17.2 billion. That's up from $11.6 billion in 2010.
The cost of these contracts is increasing as well. The average price for a U.S. CDS contract covering $10 million in debt rose to $52,000 per year this month, according to Markit, a company that tracks day-to-day prices on credit default swaps. That same product cost $41,000 a year only the month before.
It's important to note these amounts are all relative. The amount of U.S. debt covered by a CDS is less than 0.01% of U.S.'s $14.1 trillion total outstanding debt.
Compare that to a more financially-risky nation like Greece, where there are $85 billion in CDS contracts written against Greek bonds. That amount is roughly equal to 20% of Greece's total outstanding debt.
Still, it should not be surprising that some investors have increased their protection against U.S. debt with credit default swaps.
Rating agencies Standard & Poor's and Moody's both warned earlier this year that if the long-term budget deficit problems are not solved -- last year's deficit was $1.4 trillion, the second highest in history -- the credit rating of the U.S. could be downgraded.
"A U.S. default is extremely unlikely, but one cannot rule it out," said Darrel Duffie, professor of finance at Stanford University. "We haven't experienced such large sovereign debt loads since long before CDSs were invented."
On top of the long-term budget deficit concerns, investors say the increase in U.S. CDS activity could also be related to the negotiations between Democrats and Republicans over this year's budget and an increase in the debt ceiling.
Because each CDS contract is different, some of these contracts could be activated if the U.S. were to fail to pass a budget or fail to increase the debt ceiling.
Demand for U.S. CDS contracts comes primarily from Europe, where the large European banks -- Barclays, Credit Suisse, UBS and Deutsche Banks - are the "market makers" in these sovereign CDS products for mostly large institutional investors
Hedge funds could also be trading U.S. CDS as a pure speculation play.
"The hedge funds don't generally believe the U.S. will fail, but if that CDS contract goes from $50,000 to $100,000 -- you can make quite a bit of money trading these contracts," an investor said.
But at the end of the day, U.S. CDS contracts may simply be an affordable form of financial protection for investors. With U.S. CDS contracts trading at $52,000 a year to insure $10 million in debt, that works out to just 52 cents per $100 in bonds.
And because the market is so small for U.S. CDS, traders can easily take advantage of the illiquid nature of the market.
"No one is currently trading [U.S. credit default swaps] because they think the U.S. will effectively default," said another money manager of credit products. "They're just cheap speculation plays at the moment."