Sotheby's sells Picasso portrait for $40 million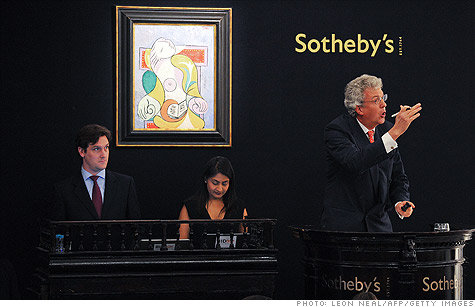 NEW YORK (CNNMoney) -- A painting by Pablo Picasso, the first work of art in which he portrayed his teenage lover, sold for more than $40 million in London, according to Sotheby's auction house.
An anonymous buyer on Tuesday paid about $40.7 million for "La Lecture," painted in 1932, said Sotheby's. A "heated" exchange among seven bidders lasted six minutes, with the winning bid placed by telephone, the auctioneer said.
The painting is the first recognizable portrait of Picasso's lover, Marie-Therese Walter, who was 17 years old at the start of their relationship. Prior to this painting, she had "only ever appeared in Picasso's works in code, her features often embedded in the background of his paintings," according to Sotheby's.
The auctioneer said the relationship "was kept a well-guarded secret for many years," partly because of the girl's age, and also because Picasso was married to Russian-Ukrainian dancer Olga Khoklova.
Eventually, Picasso "could no longer repress the creative impulse that his lover inspired," so he finally painted his mistress "in fully recognizable, languorous form," said a Sotheby's press release.
"La Lecture" was sold Tuesday along with 41 other works, including a Surrealist piece by Rene Magritte that broke a world record, according to the auction house.
The auctioneer said Magritte's "Le Maitre d' Ecole," featuring a man in a bowling hat beneath a crescent moon, sold for more than $4 million. That's the largest price ever for a work of art on paper, double the prior record, Sotheby's said.