Fed inflation hawk Warsh resigns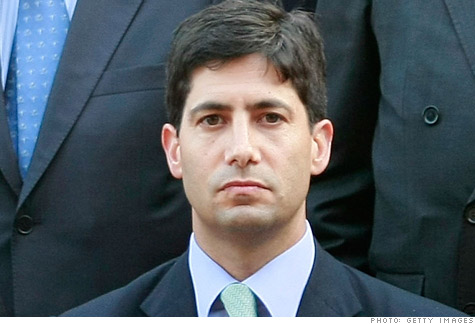 NEW YORK (CNNMoney) -- Federal Reserve Governor Kevin Warsh is stepping down from the central bank's board.
Considered one of the most hawkish members of the Fed because he's vigilant about inflation risks, Warsh has served on the board since 2006.
"I am honored to have served at a time of great consequence," Warsh wrote in his resignation letter delivered to President Obama on Thursday.
In an official statement, Fed Chairman Ben Bernanke spoke highly of Warsh's knowledge of financial markets -- a skill that he said "proved invaluable during the recent crisis." Warsh previously worked in the mergers and acquisitions department at Morgan Stanley in New York.
"I deeply appreciate his insights and wise counsel and, most especially, his fortitude and friendship during the difficult days, nights, and weekends of the crisis." Bernanke said.
It is unclear why Warsh resigned. He will officially leave his post at the end of March; his term was scheduled to expire in 2018.
Warsh's resignation creates a second vacancy on the seven-member Fed board in Washington.
Nobel-winning economist Peter Diamond is still awaiting confirmation from the Senate, after President Obama twice nominated him for one of the open spots.
At only 40 years old, Warsh was the youngest member of the Fed board.
He has recently spoken openly about his doubts of the Fed's controversial policy that pumps $600 billion into the economy through purchases of long-term Treasuries.
That policy is meant to stimulate the economy by keeping interest rates low, but critics argue it could spur inflation to rise too quickly.
In the last speech Warsh gave in November, he said "I am less optimistic than some that additional asset purchases will have significant, durable benefits for the real economy."
That said, Warsh was also considered a close friend and adviser to Bernanke, and never once dissented against a Fed decision.