The coming boom in Asian online travel sites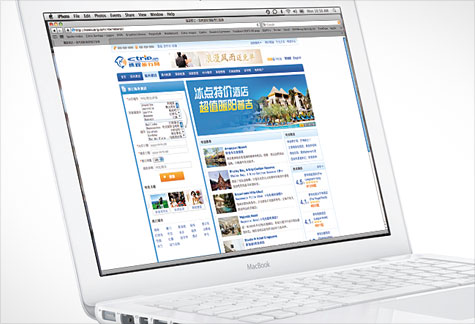 FORTUNE -- The online travel industry had a bumpy ride in 2010. American (AMR, Fortune 500) and Delta (DAL, Fortune 500) pulled their flights from some travel websites following disagreements over fees. Google (GOOG, Fortune 500) purchased a firm called ITA Software, the proprietor of a much-coveted search algorithm, provoking outrage and an antitrust case filed by the titans of the online travel industry. As if to highlight the stakes of this showdown, Priceline (PCLN) was recognized in 2010 for being the single best-performing stock in the S&P 500 over the past five years.
As industry players adjust their strategies for the next decade -- forging new partnerships, leveraging social media and mobile technology, exploring new business lines -- one thing seems clear: the fragmented and largely untapped Asian market is a golden opportunity. Online travel bookings accounted for just 22% of the Asian market in 2010, well below the 32% in Europe or the 38% in the United States, according to PhoCusWright, a travel consultancy. And analysts predict that while online travel in the West is leveling off, Asia's industry is just taking off -- particularly in India and China.
The trend is already evident on the ground. The temples of Siem Reap, Cambodia, and the beaches of Phuket, Thailand, now welcome busloads of Chinese and Indian tourists every day. Louis Vuitton and Chanel stores around the world report hordes of visiting Chinese, who pay almost a third less if they buy luxury goods outside Mainland China. The World Tourism Organization predicts that the global tourism industry will add 66 million jobs by 2020, 50 million of which will be in Asia. The online travel industry stands ready to capitalize on this boom -- but who will reap the rewards?
A prosperous and well-traveled Chinese New Year
On average, each of China's 1.3 billion people takes just one trip per year. The figure is projected to quadruple by 2015 as the Chinese government rolls out its "national tourism plan." Yet despite all the stories about China's Internet boom, only 2% of travel is booked online. While Chinese consumers have been slow to adopt Internet booking, iResearch, a consultancy, predicts that 30% of Chinese air tickets will be sold online by 2013.
Two firms appear to be the most likely beneficiaries of this increase. CTrip (CTRP), an online travel company that was just added in December to the NASDAQ-100's top-performing companies, accounts for half of the online travel market in China. Launched just over a decade ago and now worth $6.7 billion, CTrip mainly serves the Chinese domestic market, though it recently acquired leading travel companies in Hong Kong and Taiwan.
Unlike Expedia and Priceline, CTrip's core business model is all about service. The firm's employees are known to personally meet customers in third-tier Chinese cities, and about half of its 12,000 workers sit in call-centers, ready to help the frazzled traveler. The company just started making acquisitions in the domestic hotel space in China -- a first in the online travel world -- and many insiders say that this strategy, too, is geared toward service, to ensure smooth functioning between CTrip agents and its hotel partners, and to dominate the technology platform between them.
The second company to watch is Qunar.com, the top travel site in China. Similar to Kayak, Qunar is a meta-search engine co-founded by American entrepreneur Fritz Demopoulos. (Demopoulos is frequently at the top of the short-list of foreign entrepreneurs in the Internet industry in China.) Much of its success is attributed to the fact that it developed its own search technology that gives users real-time results from the latest Chinese travel deals. Like Kayak, the company makes most of its money by selling advertising. Boasting 30-40 million unique visitors per month (compared to around 12 million at Kayak), Qunar is a top IPO candidate for 2011.
Expedia, the U.S.-based online travel giant, is also in the picture, with a stake in eLong, China's second-largest travel company. In June, Expedia sunk more money into the firm, buying 16.9% of eLong's shares. The company has also expanded its footprint with TripAdvisor, introducing two equivalent hotel ranking services in China, daodao and Kuxun.
Priceline, on the other hand, has a different strategy. Instead of partnering with local Asian brands, it acquired the hotel bookings website Agoda.com in 2007, serving mainly Hong Kong, Singapore, Malaysia, and Thailand. Priceline revealed in November that its Asia business, which includes partnerships with large Western hotel chains operating in China, had almost topped $1billion dollars.
But the industry is far from saturated. "Anybody who manages to bring some structure to the market has huge potential," Nicolas Berbigier, CEO of Xandu, a Beijing-based travel agency, told the New York Times in December. Douglas Quinby of PhoCusWright echoed this sentiment: "I would have expected by this time to have seen some more acquisitions."
Go India!
Despite setbacks to the tourism industry from the 2008 terrorist attacks in India, both Indian and foreign tourists are traveling around South Asia again. Not only is travel the largest e-commerce category in India, the market for online bookings is now worth about $6 billion, compared to $295 million in 2005. And with reports from McKinsey predicting that 70% of the average Indian's income will be spent on discretionary items by 2025, investor interest in the Indian travel market is piqued.
India's market is dominated by three companies, which are all backed mainly by U.S.-based venture capital firms. MakeMyTrip (MMYT), India's top travel website with around 40% of the market, filed an IPO in August -- the first Indian IPO in the U.S. since 2006 -- raising $80.5 million. The company is now valued at around $1 billion, making it the first Indian tech firm to have been a big win for U.S. private equity firm Tiger Global Private Investment Partners. MakeMyTrip focuses mainly on selling travel within India and between India and the U.S., and it just launched websites in the United Arab Emirates and Canada, aiming to target the large Indian populations in both those countries.
India's other major travel websites, Yatra and Cleartrip, are also backed by high-powered Western VC firms (among the firms are Norwest for Yatra and Kleiner Perkins for Cleartrip), and are coming under pressure to post similarly heady results. But there are hurdles in the Indian marketplace -- many say more than there are in China. For one, there is a deep culture of bargaining, and many Indians believe the best deals can be obtained in person or over the phone. Due to India's rich culture of entrepreneuriship, there are many independent travel agents operating in Indian cities. Many Indians prefer those relationships and the perks they offer, like paying in cash.
Expedia, Agoda, and Travelocity's Zuji also operate in India -- and there are rumors that Expedia plans to expand its presence in the next few years -- but the market remains fragmented. "Eventually Expedia will turn more attention there, same with Priceline," says Brett Henry of Abacus, a travel technology firm. "It's a big market and in 10 years from now, it will be really meaningful. But the aviation market is still not that big. As companies prioritize opportunities, China is coming first."
The Skies Ahead
Online travel is a tough business. As U.S. sites know all too well, profit margins are razor-thin, particularly in the arena of airline ticket sales. Customers gravitate toward sites with the best hotel deals -- but getting the best deals requires carefully crafting relationships with hotels in order to secure uniquely negotiated rates. This is true in Asia as it is in the States. So too must Asian companies create easy-to-navigate sites with strong customer service support.
Add those requirements to the impulse of clients to price shop around, then go and book directly on the website of an airline or hotel, and a formidable task awaits Asia's would-be travel giants. But obstacles aside, the firm that cracks the code and capitalizes on the region's new travelers will have a good holiday indeed.