Guitar Hero gets axed; Activision shares dip 10%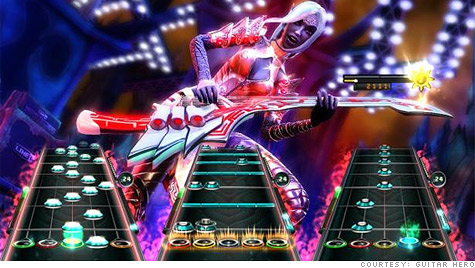 NEW YORK (CNNMoney) -- The stock price for Activision Blizzard hit a sour note Thursday, the day after the video game company said it was abandoning "Guitar Hero" and focusing on battle games such as "Call of Duty."
"Due to continued declines in the music genre, the company will disband Activision Publishing's Guitar Hero business unit and discontinue development on its "Guitar Hero" game for 2011," said Activision, in its fourth-quarter earnings statement Wednesday.
Shares were down 10% Thursday after the company posted its quarterly earnings and released its forecast for 2011, which was below what analysts were expecting.
Investors may not be happy, but analysts say the company is making a move that's necessary to stay competitive.
"These guys are smart and they realized that the packaged goods business is going away," said said Todd Mitchell, analyst for Kaufman Brothers, referring to games such as "Guitar Hero," which is loaded via a compact disc and uses mock plastic guitars. "They want to shift to a digital model. It was a choice they made to exit businesses they felt were subpar profitable."
Despite its brand recognition, "Guitar Hero" sales have been on the decline, said Mitchell. So Activision is focusing on games such as "Call of Duty" and "World of Warcraft," which can be played online against online opponents.
A few years ago, it would have been hard to imagine "Guitar Hero" getting ditched. The game took the video game industry by storm after it was launched in 2005, reaching $1 billion in sales within a 26-month span, according to Activision.
The company continued to update the game with new versions. In 2007, "Guitar Hero III: Legends of Rock" became the top-selling video game of all time in a single year, the company said.
Going forward, Activision (ATVI) said it expects non-GAAP revenue of $3.9 billion and earnings of 70 cents per share for all of 2011, down from 2010 revenue of $4.8 billion and diluted earnings of 79 cents per share.
The 2011 forecast was below industry expectations of $4.4 billion in revenue and earnings per share of 83 cents for 2011, according to Mitchell.
Edward Williams, analyst for BMO Capital Markets Corp., reiterated his "outperform," or "buy" rating for Activision despite an outlook that "disappoints."
He also lowered his EPS forecast for 2011 to 70 cents from 82 cents, but said he was sticking to his 2012 EPS estimate of 90 cents.
"The company continues to benefit from the strength of its core brands, "Call of Duty" and "World of Warcraft," as well as strength in the growing category of downloadable content and other digital revenue streams," Williams wrote in a note to investors.
Other companies, such as Netflix (NFLX), are ditching DVDs for digital.