NYSE's grab at a $3.7 quadrillion market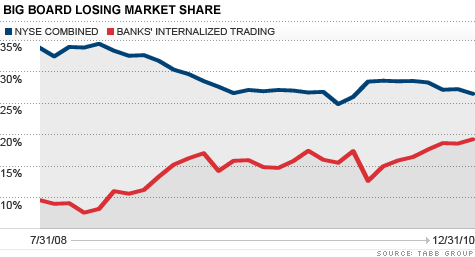 NEW YORK (CNNMoney) -- Stock exchanges around the world are struggling to gain a foothold in areas where their biggest customers - banks - already have a significant stronghold.
Derivatives trading.
It's become big business on Wall Street but stock exchanges only handle a fraction of the deals. Derivatives are complex financial products such as interest rate swaps, futures and commodity-related products.
Currently, there are about $688 trillion worth of those products on the market. That's twice as much as there were in 2003. And the total value of these products that exchanged hands last year hit a whopping $3.7 quadrillion ($3,700 trillion).
Last week's announcement that NYSE Euronext (NYX, Fortune 500) is engaged in serious talks with Germany's Deutsche Börse highlights the struggle.
"NYSE officials are not explicitly saying this merger is a story about derivatives," said Sal Arnuk, partner and co-head of equity trading at Themis Trading. "But their traditional cash equity business is dead. They have to move on to more lucrative financial products."
While derivatives are still dwarfed by equities, in terms of volume and size, they make up for it with profitability.
The world's largest futures and derivatives exchange, CME Group (CME), operates at a profit margin of around 71%. Compare that with the NYSE Euronext, which has a much smaller derivatives business and operates closer to a 43% margin.
Furthermore, when it comes to derivatives, exchange-driven business accounts for only around one-tenth of the trillions that get traded every year.
The rest is handled by major investment banks. Goldman Sachs (GS, Fortune 500) generated 25% to 33% of its total revenue between 2006 and 2009 from the creation and trading of over-the-counter and exchange-traded derivatives, according to the Financial Crisis Inquiry Commission's 2010 report.
"If the NYSE is able to team up with Börse to make derivatives more competitive that wouldn't be a bad thing," said Jamie Selway, managing director at Investment Technology Group.
And timing is everything. With the passage of the Dodd-Frank financial reform act, U.S. regulators have been tasked with making over-the-counter derivatives trading more transparent, through new rules and regulations.
NYSE Euronext is also facing heavy competition from the banks in the traditional bread-and-butter stock trading business.
While the NYSE remains by far the world's largest and most well-known stock exchange, it is also facing stiff competition from banks' alternative trading platforms, which are keeping larger proportions of stock trades off the floor of the exchange.
Some of these platforms are known as "dark pools," third-party exchanges where traders can move large blocks of stock anonymously. But there are also internalized trading systems developed by the major investment banks that allow the banks to trade their clients stocks internally.
These two platforms now constitute a third of all U.S. stock trading, up from a 17% two years ago, according to data provided by the TABB Group, a financial research and strategy firm that focuses on exchanges and capital markets.
"Giving where the market is heading, NYSE Euronext doesn't have much choice in merging," said Larry Tabb, CEO of the Tabb Group.
Tabb said he expects other major exchanges will also be forced to seek out merger partners to keep up.