Borders in bankruptcy, will close 200 stores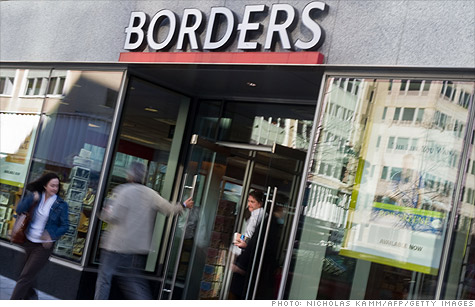 NEW YORK (CNNMoney) -- Borders Group has filed for Chapter 11 bankruptcy, and plans to close 200 of its stores and reduce its staff, the nation's second-largest book retailer said Wednesday.
"It has become increasingly clear that in light of the environment of curtailed customer spending, our ongoing discussions with publishers and other vendor related parties, and the company's lack of liquidity, Borders Group does not have the capital resources it needs to be a viable competitor," the company said in a statement.
"As we do close down the stores, ultimately there will be a reduction in employees," said Borders spokesman Donald Cutler. But he didn't say how many workers would lose their jobs.
Borders ranks just behind Barnes & Noble (BKS, Fortune 500) among the nation's book store chains. It currently has 659 stores and employs nearly 20,000 workers, including 5,842 full-time employees, both regular and temporary, and 13,661 part-time employees, said Cutler.
The company said it is closing 200 stores in 35 states, Washington, D.C., and Puerto Rico.,
Wall Street has been expecting the filing from the struggling company.
"This decisive action will give Borders the opportunity to achieve a proper infusion of capital in order to have the opportunity to have the time to reorganize in order to reposition itself to be a successful business for the long term," said Borders Group president Mike Edwards, in a press release.
Borders said it has received a commitment for $505 million in "debtor-in-possession financing" from GE Capital's Restructuring Finance division.
Borders said it will close its most under performing stores in the next several weeks, a decision based on "economic conditions, cost structures and vitality of locations."
The company said the remaining stores "will continue to run in normal course."