Home construction rises in January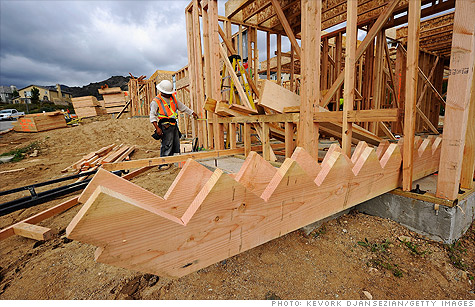 NEW YORK (CNNMoney) -- New home construction rose in January, but permits for future building declined during the month, the government reported Wednesday.
Housing starts, the number of new homes being built, rose 14.6% to an annual rate of 596,000 in January, up from 520,000 in December, the Commerce Department said.
While that was better than the 540,000 housing starts economists had expected for the month, it was "all due to apartment building," said David Crowe, chief economist with the National Association of Home Builders.
Construction of buildings with five units or more, which tends to be volatile month-to-month -- gave the overall number a big boost when that category alone surged 80% in January.
Meanwhile, construction of single-family homes -- which is viewed as a more stable indicator of new homebuilding activity -- was flat. Given fierce winter storms across much of the country, it's an encouraging sign that category did not actually decline, Crowe said.
Meanwhile, the number of permits for future housing construction fell to an annual rate of 562,000 last month, down 10.4% from 627,000 in December, the Commerce Department said.
The reading fell short of forecasts, with economists surveyed by Briefing.com looking for 575,000 permits.
The decline comes after a very strong December, when permits reached their strongest level since last March.
"We had strong increases in December as builders pulled permits to avoid some oenerous regulations being imposed at the first of the year," Crowe said. "In January, we had an adjustment to that."
Builders made a big push to get permits filed before the end of the year, to get ahead of new regulations in California and Pennsylvania that now require new homes to have fire sprinklers installed.
Crowe said he expects those laws to have only a temporary effect, with new home construction heading upward 17% by the end of 2011.