U.S. to China: Invest in our debt, not our companies
FORTUNE -- Washington lawmakers have been griping about the value of China's yuan, but that issue is likely to take a backseat in the coming years as the world's second-largest economy looks to invest more abroad.
Chinese outward direct investment was virtually nonexistent prior to economic reforms that began in 1978. By 2007, the annual volume of its global investments grew to around $25 billion, then doubled to more than $50 billion in 2008. Investments dropped off in 2009 during the height of the global economic recession, but rebounded to an estimated $56.5 billion in 2010.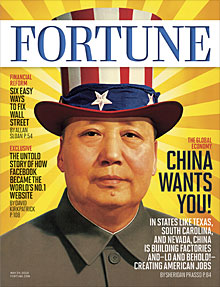 Though the vast majority of China's 2010 investment was outside of the U.S., there's plenty of frustration in Washington over the East Asian Tiger buying up American companies. Recently, amid national security concerns, a U.S. panel that reviews cross-border deals recommended that China's telecommunications maker Huawei divest itself of 3Leaf Systems, a small Bay Area technology company that it acquired for $2 million in May.
The message is clear: U.S. officials are happy to take China's $900 billion investment in Treasuries, but they greatly fear a $2 million corporate takeover.
The opposition arising from Washington lawmakers is nothing new. And it's bound to grow -- China's outward direct investments are forecast to rise in the coming years as the country looks to continue diversifying its economy beyond exports. In 2010 Chinese firms spent $4.9 billion on acquisitions and new facilities in the U.S., up from $2.8 billion in 2009, according to estimates from Rhodium Group. Investments in industrial machinery and equipment topped the list, followed by electronic equipment, utility services and coal, oil and gas.
"This is just the beginning," says Daniel Rosen, a principal of the New York City-based consultancy specialized in China's economy. "We can say for certain that growing Chinese investment in U.S. companies and assets will be a source of anxiety and tension."
It's hard not to wonder if this is in fact the right tone for doing business with an economy poised to top the U.S. by 2025.
A history of dead deals
In 2005, China National Offshore Oil Corporation, one of the country's three major state-owned oil companies, withdrew plans to take over U.S.-based Unocal Corporation following a political firestorm over national security concerns. And as recently as November, Sprint Nextel (S, Fortune 500) excluded Huawei from a contract valued at billions of dollars largely because of national-security concerns, The Wall Street Journal reported, citing people familiar with the matter.
Other U.S.-China deals have seen better success, however. In October, CNOOC paid $1.1 billion for a stake in Chesapeake Energy's (CHK, Fortune 500) Eagle Ford shale project in South Texas. And China's Bright Food Group Co. is reportedly close to a deal to buy U.S. vitamin retail chain GNC Holdings Inc. for between $2.5 billion to $3 billion, according to the Journal. (For more on this trend, see last year's Fortune cover story "American made...Chinese owned.")
Huawei, China's largest telecom networker, has particularly struggled to expand here. U.S. officials have expressed concerns of the company's close ties to the government and whether its phone networks pose national security risks -- it was founded in 1988 by former Chinese army officer Ren Zhengfei. But it appears Huawei is not going away -- at least not without a fight. On Monday, the company resisted calls by the U.S. Committee on Foreign Investment to divest itself from its $2 million deal with 3Leaf, saying it will await President Obama's word on the issue. The administration has 15 days to take a stand on the panel's recommendation.
Whatever the decision and however warranted the national security concerns, the deal appears to be sending the message that Chinese capital is to be viewed with fear.
This kind of message doesn't help the U.S. lure capital from China, says David Hofmann, North America director for InterChina Consulting, a boutique management consultancy specializing in strategy, corporate and human resources services for companies doing business in China.
"At the end of the day it's the perception on the Chinese side that will drive additional investment in the U.S.," Hofmann says.
Indeed, although China's outward investment has grown considerably over the past few years, much of the growth is concentrated in Latin America and Asia, Hofmann says. Roughly about 3% to 4% of Chinese outward investment goes into the U.S.
The U.S. can choose to invite more Chinese capital but that will probably require considerable handholding. The Asian tiger might have lots of capital to invest abroad, but given its shortage of managerial and legal expertise, China is still learning how to maneuver its way through the American marketplace.