Borders is planning a fire sale!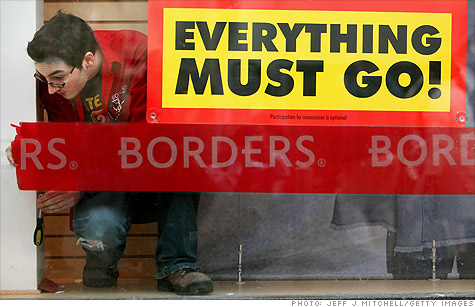 NEW YORK (CNNMoney) -- Borders is planning liquidation sales in the 200 stores it is shutting down as part of its Chapter 11 bankruptcy filing.
"There will be opportunities for liquidation-type sales," said Borders spokesman Donald Cutler on Thursday. "Specifications about them will be revealed in the coming days and weeks."
Borders, the second-largest book retailer behind Barnes & Noble (BKS, Fortune 500), announced on Wednesday that it had filed for bankruptcy and was closing down nearly one-third of its 659 stores. The closures are expected to be completed in April.
"It's quite possible that some, if not all of the stores on the list of 200, might have a sale this weekend," said Michael Norris, senior analyst with Simba Information, a provider of research and advice to publishers.
Norris has seen this type of thing before. In Stamford, Conn., a Borders-owned Waldenbooks held a fire sale before closing its doors. So he plans to visit his local Borders in Milford, Conn., this weekend and see if there are sales.
Borders does have other options for dealing with its inventory, including returning books to their publishers. "Depending on the arrangements with the publisher, they might be able to put the books back to the publishers, said Craig Johnson, president of Customer Growth Partners. "Or the publishers might say they don't want these books."
Johnson said this is the type of arrangement that gets hashed out in bankruptcy court.
The Chapter 11 filing lists 30 publishers as creditors to Borders. Penguin Putnam holds the largest claim, at $41 million, followed by Hachette Book Group, at $37 million, and Simon & Schuster, with $34 million.
"Penguin hopes that Borders will emerge from this process as a smaller but strong book retailer, and will work closely with Borders management to support this transition," said Penguin spokesman David Zimmer.
But the publishers and Borders would not discuss their business relationship with CNNMoney.
Bestsellers and other books that are too valuable to be discounted might be moved to other stores.
"They could go on fire sale, but more realistically they will go to the other 400 stores that will still be running," said Johnson.
Borders might even choose to unload heavily discounted books by moving them from successful stores and dumping them in stores that are going to be shuttered.
"One of the great ways to get rid of obsolete inventory is to move it into one of the stores that's slated for closure," said Marshal Cohen, chief retail analyst with NPD Group. "The book business is very good at moving inventory."
Book retailers have tried to evolve by incorporating e-books, with mixed success.
But Greg Segall, managing partner with Versa Capital Management, which invests in bankruptcies including retailers, said that the real threat to brick-and-mortar book retailers is the rising prevalence of online retailers such as Amazon.
"I suspect there are people who have preference for and enjoy shopping in the stores, but obviously there are more people who do not, or Borders wouldn't be going out of business," he said.
Borders said that its gift cards will be unaffected by the bankruptcy process, as they will still be usable in the remaining stores and at Borders.com.