Boehner: 'Read my lips,' GOP will cut spending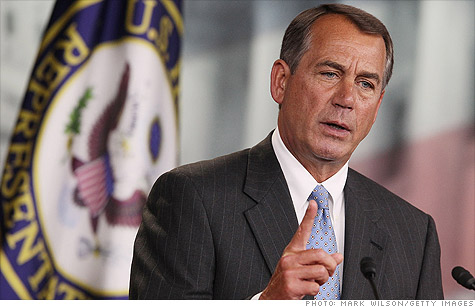 WASHINGTON (CNNMoney) -- House Republicans on Thursday continued on their mission to cut billions of dollars from the current year's budget.
"When we say we are going to cut spending, read my lips: We are going to cut spending," said House Speaker John Boehner on Thursday.
He added that the House wouldn't pass a budget that doesn't cut spending, fueling new speculation of a possible government shutdown when current stop-gap funding measures run out March 4.
Republicans have vowed to cull $60 billion from the fiscal 2011 budget, in their first big opportunity to make good on campaign promises to rid Washington of mounting deficits and government spending.
Some of the more controversial amendment votes expected later Thursday would determine funding for family planning and the major health care expansion Congress passed last year.
Earlier Thursday, lawmakers took their scalpel to arts funding, slashing $20 million from the National Endowment for the Arts and $4.5 million from National Capital Arts and Cultural Affairs. They also voted to retain a big $390 million cut aimed at heating subsidies to poor households.
Lawmakers also on Thursday defunded the Federal Communications Commission's efforts to enact new so-called "Net neutrality" rules, which give the agency regulatory power over Internet service providers.
Republican lawmakers also agreed to cut funding to eight "czars," or top presidential or federal agency advisers who aren't confirmed by the Senate, including the pay czar charged with watching executive compensation at TARP-funded banks. And they also blocked an effort to blunt some $50 million in cuts to the Consumer Financial Protection Bureau.
One of the largest additional budget cuts happened Wednesday, when lawmakers of both parties agreed to an amendment stripping $450 million slated to build a new engine for the F-35 fighter jet.
Not everything gets the ax
However, for all the rhetoric, lawmakers are also voting to avert some major cuts. They agreed to restore funding that would keep some firefighters and police officers on the payroll through September, despite an $800 million tab for both.
On Thursday, lawmakers voted on amendments to protect $450 million slated for Amtrak train service, as well as another $200 million in financial help for struggling nations abroad.
Earlier this week, Boehner raised eyebrows when he predicted budget cuts could cost some federal jobs, adding, "so be it."
However, on Thursday he backed off the tough love stance.
"Listen, I don't want anyone to lose their job whether they are a federal employee or not. But come on! We're broke!," Boehner said. "We've got to make tough decisions and the American people sent their representatives here to Washington to make tough decisions on their behalf.
Late Wednesday, Democrats accused Republicans of killing jobs and hurting the economy. They cited a report by the left-leaning Economic Policy Institute, which gets funding from labor unions, that $60 billion in cuts would result in hundreds of thousands of jobs lost in both the public and private sectors.
Final House vote could be delayed
House leaders had wanted to pass the budget by Thursday, but the timing is now uncertain, as the process has taken more time than expected.
The Senate isn't expected to take up the measure until later this month. Then the chambers will likely have to negotiate the differences and come to a compromise.
The White House has vowed to veto the budget if it contains the deep cuts that House Republican are proposing.
Although the 2011 budget up for debate only covers the next seven months, March through September, the clock is ticking to pass something soon. The current stop-gap measure that's keeping the lights on at federal agencies expires March 4.
If lawmakers fail to pass a budget -- or at least another stop-gap measure -- by March 4, the federal government could be shut down like it was during the GOP showdown with the Clinton administration in 1995.
Other deep cuts on the table would slash food subsidies for children of poor mothers, funding for early childhood development programs that help low-income children, and special education programs at schools.
Many amendments are aimed at undoing White House priorities, such as the Environmental Protection Agency's efforts to cut greenhouse gases. Late Wednesday, House Democrats largely abandoned efforts to save those programs, hoping that they'd have more success keeping environmental funding with negotiations with the Senate.
-- CNN producer Deirdre Walsh contributed to this report.