Fear index jumps 28% on Libya turmoil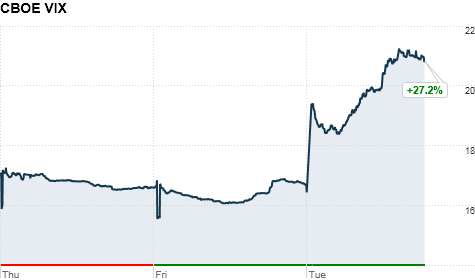 NEW YORK (CNNMoney -- Wall Street's key volatility measure spiked nearly 28% Tuesday as investors fret about the deteriorating situation in Libya.
The CBOE volatility index (VIX), or VIX, rose 27.8% to 20.99 in late afternoon trading. The index has jumped more than 31% in five days and is now trading at its highest level since late November.
Investors are clearly getting worried but the fear level is still below 30 -- considered the benchmark sign of investor worry.
At current levels, the VIX is also still way below its peak level of almost 90 hit in October 2008 -- after Lehman Brothers collapsed. And year to date, the index is up only about 18%.
The VIX is used by traders as a gauge for how volatile the stocks and futures markets could be over the next 30 days.
The rise in the VIX comes amid a sharp stock sell off, with the Dow falling as much as 120 points.
The turmoil and chaos in Libya is keeping investors on edge as worries about a disruption in oil supplies sends crude prices sharply higher. Oil prices continued to spike Tuesday.
The VIX hit a session high after Libyan leader Moammar Gadhafi said in an hour-long speech that he would not step down and would die before being removed from office.
The Libyan protests follow what have been mass protests across the Middle East.