Delay on debt ceiling comes at a cost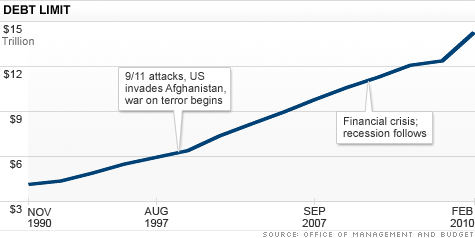 NEW YORK (CNNMoney) -- The longer Congress waits to raise the debt ceiling, the more time and money the Treasury Department will have to spend just managing the national debt by the minute, a federal report warned Tuesday.
Moreover, the Treasury may have less wiggle room than many believe to keep the debt below the limit.
The legal cap on how much the government can borrow is currently set at $14.294 trillion. Treasury Secretary Timothy Geithner has said it could be reached as soon as April 5 and urged Congress to act. But some lawmakers are arguing that it should not be raised unless Congress also cuts spending.
The Government Accountability Office, which issued the new report, reviewed some of the "extraordinary" actions Treasury took in the past to keep the debt from hitting the ceiling, which has been raised 12 times since 1995.
The Treasury employed such extraordinary actions before six of those increases.
The actions include suspending investments in a savings plan for federal workers and pulling Treasury securities out of a trust fund for two federal retirement plans. In such cases, the Treasury must make the funds whole again once the ceiling is raised.
But since the government's monthly borrowing needs have grown so much in recent years, the GAO estimates that Treasury's actions may only cover "as little as a few days to a few weeks."
Much depends on when it is forced to act.
For instance, the end of June typically marks a time when the debt spikes because the Treasury must make semiannual interest payments to government accounts.
The GAO also examined the effect of the approaching debt limit on Treasury's interest costs, its bond auctions and capacity to attend to other cash and debt management issues.
The agency found that Treasury had to pay a premium in interest on its 3-month securities during three of the past five "debt limit events."
Eleventh-hour changes in the normal schedule and supply of bond sales creates uncertainty among investors.
Moreover, the GAO reported that "as much as several hundred hours per week" were spent by Treasury managing the debt as it nears the limit. Contingency planning begins six to nine months before the debt ceiling is likely to be reached. Staff members make projections throughout that period -- initially monthly but eventually up to many times a day. Meetings proliferate, as do overtime hours.
Earlier this month, the Congressional Research Service estimated that if the debt ceiling weren't raised this year -- meaning Treasury would no longer be able to pay all the country's bills -- the country would need to cut spending or raise taxes by as much as $738 billion over just 6 months.
If the limit isn't raised by 2012, more spending cuts and tax hikes would be needed to meet U.S. obligations, the CRS report said.