I'm 61. Should I retire or keep working?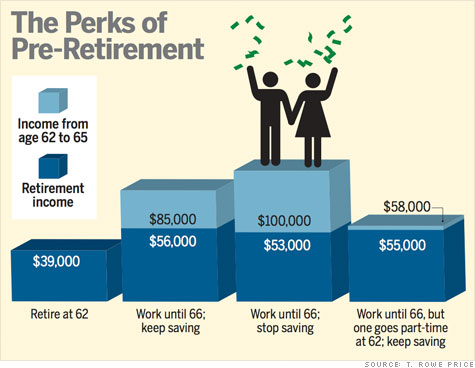 (Money Magazine) -- My wife and I are 61 and wondering when to retire. Some say keep working, but I'd like to enjoy life. What's your take? -- David Watkins, Aurora, Colo.
It's natural to want to leave the workaday world while you're still young and active enough to truly savor retirement. Problem is, if you do so before you're financially prepared, the pleasure of those first few years off the job could give way to leaner and more anxious times later in life.
So before you and your wife draft your resignation letters, I suggest you do a thorough evaluation of your retirement readiness -- that is, see whether you have sufficient resources to fund the post-career lifestyle you envision.
If you find that you don't, however, simply sticking it out for several more years isn't your only alternative.
Start by going to the Retirement Estimator at the Social Security website, which will show you in today's dollars how much you and your wife stand to receive at three key ages: 62 (the earliest you can collect), 66 (the age at which you and your wife qualify for full benefits), and 70 (when you'll get the largest possible check).
Next, turn to a robust online retirement calculator like Fidelity's new Income Strategy Evaluator tool. You can enter expenses in as many as 49 categories -- ranging from cable service to groceries -- plus adjust for outlays that may disappear, such as mortgage or car payments.
You won't qualify for Medicare until you hit 65, so unless one of your employers provides coverage for early retirees, you'll have to buy health insurance. Peruse quotes at ehealthinsurance.com to see how much you'll need to spend until 65.
Once you've finished your budget and entered the balances for your 401(k)s, IRAs, and other accounts, the tool will tell you how much retirement income you might be able to generate using different strategies, such as managing withdrawals yourself or putting a portion of your portfolio into an annuity. You'll be able to tell whether your early-retirement dream is realistic.
If this analysis shows that you and your wife have enough saved to retire now, go for it. But if you come up short, you'll have to think about alternatives. One is to work part-time or scale back your post-career lifestyle.
Or your only realistic option may be to continue working full-time. Of course, the idea of staying at your desk is the last thing anyone eager to retire wants to hear. But there may be a way to get the benefit of both worlds -- a better financial outlook along with some of the perks of retirement life.
That's the point of a new strategy that the retirement planners at investment firm T. Rowe Price have begun suggesting.
The premise is simple: Instead of thinking of those extra years on the job as drudgery to be endured, look at them as a time for easing into your retirement lifestyle.
"Most of us have hobbies or traveling we'd like to do, and you can typically make those things happen while you're still on the job," says Christine Fahlund, a vice president and certified financial planner at T. Rowe Price.
Fahlund goes one step further. To fund these retiree-like activities during this transition, you could forgo contributions to your retirement accounts.
I admit that at first blush the notion of spending what would have been your additional retirement savings seems like heresy to me. But the idea is to do whatever it takes to resist the urge to retire earlier than you can afford.
The strategy is a tradeoff. You give up a bit of the retirement income you would have had if you'd kept saving. But you get to taste some of the pleasures of retirement before you pull the plug on your job.
And perhaps most important, as the chart illustrates, you're still much better off than if you quit, even when you take into account no saving in those final years.
For one thing, working longer pumps up your Social Security check. For example, in the case of a 60-year-old couple with one spouse earning $55,000 and the other $45,000 a year and both hoping to retire at 62, working until 66 could hike their annual benefit from $23,000 to $32,000.
Plus, delaying tapping your retirement accounts lets you take bigger withdrawals when you need the money.
Indeed, even if only one spouse keeps working full-time and the other drops to part-time, you would still have significantly more income later in life than if you both exited early.
This strategy isn't for everyone. If your savings are woefully inadequate, working several more years while continuing to save every cent may be your only real hope. Similarly, this approach won't be much help if, for whatever reason, you can't stay on the job any longer.
If your nest egg is big but not quite big enough, however, this may help you punch the clock for long enough to improve your prospects while making those years on the job more palatable, perhaps even enjoyable.