College coaches' fat paychecks stir controversy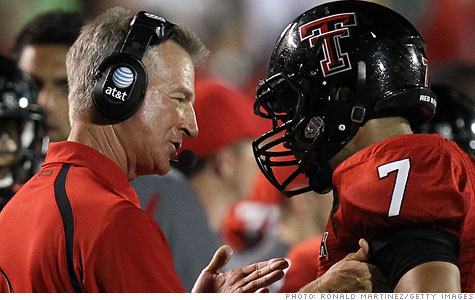 NEW YORK (CNNMoney) -- While some state employees are protesting pay and benefit cuts, one group is doing very well -- coaches of major college football and basketball teams.
Compensation for them is on the rise, causing controversy among other faculty members.
The latest storm is in Lubbock, Texas, where Texas Tech football coach Tommy Tuberville is getting a 33% raise after just one year, to $2 million. The new contract is guaranteed through 2014.
The school says it was making good on a verbal agreement made with Tuberville when he was hired. But the raise comes as many faculty members are going without raises, and the school prepares for expected cuts in state support.

"It probably wasn't the best move in terms of financial public relations," said Richard Meek, a music professor and president of the school's faculty senate.
Tuberville isn't the only coach getting a raise. Figures compiled for an NCAA report show that median pay and benefits for coaches at major college football schools rose 13% to $1.24 million in 2009, the most recent season available. Basketball coaches at those schools received an 11% increase to $911,000.
A similar analysis by USA Today of its own database put the national average at $1.36 million in 2010, up 35% from three years ago, although little changed from the 2009 average.
While those figures include both state and private colleges, the coaches at state schools are typically much better paid than their private-school counterparts.
By comparison, pay and benefits across all colleges and universities and professional schools rose 3% over the same time frame, according to Labor Department figures, with most of that gain from the increased cost of benefits such as health insurance. Wages were up only 1% at those institutions.
Reward for bigger profits
The increased pay for coaches is typically seen as a reward for the increasing money flowing into football and basketball programs, driven by rising ticket sales and television contracts.

Ticket sales at Texas Tech, for example, rose nearly 14% last season, and helped bring in record revenue for the school, according to early tallies.
The football program at Texas Tech made a profit of $11.5 million during the 2009 school season, and that profit almost certainly rose in 2010, with increased revenue and Tuberville earning $1.2 million less than predecessor Mike Leach.
The school is hoping to make the athletic department self-funding, reducing the $2.5 million it's currently getting each year from the general university budget.
The improving economics of college sports programs is widespread.
An analysis by CNNMoney of figures filed by schools with the Department of Education showed that football teams in the six major conferences earned a collective profit of $1.1 billion in 2009. That was an 11% increase from the previous year, even after paying the higher salaries for the coaching staffs.
On average, each team in those conferences earned $15.8 million that year, or well over $1 million per game.
Basketball profits were a more modest $309.5 million, or $4.2 million per school. But the profit there rose even faster, up 16%.
Still, there are critics who believe that coaches are grossly overpaid.
"Higher salaries do not correlate with higher performance or revenues in athletics, never mind with a strengthening of the educational mission of the institutions," wrote Andrew Zimbalist, a leading expert on the business of sports and an economics professor at Smith College, in a recent article in the Harvard Business Review.
He points out that some coaches are earning five to 10 times what is paid to their schools' president. He advocates a hard salary cap on coaches' pay, although he admits getting approval for one would be difficult.
"If the NCAA were to place, say, a $400,000 cap on coaches' compensation packages -- about five times an assistant professor's pay, which would also put coaches' pay in line with the average pay of college presidents -- it would not materially affect the quality of coaching or the college programs' ability to attract top talent," Zimbalist wrote.