Air Force awards Boeing $35 billion contract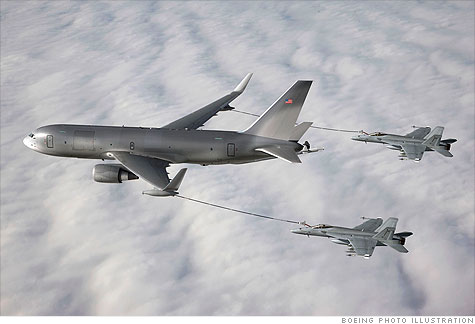 NEW YORK (CNNMoney) -- The Air Force announced Thursday it awarded a $3.5 billion initial contract to Boeing for the production of 18 next-generation aerial refueling tankers.
That is a down payment on a contract worth about $35 billion for 179 planes.
Aerial refueling tankers allow the military to refuel aircraft in mid flight, greatly extending the range of operation for smaller aircraft, while also providing the capability to carry cargo and airlift personnel.
Both Boeing (BA, Fortune 500) and the North American unit of EADS -- which owns Airbus --submitted bids for the blockbuster contract and planned to base their planes on popular civilian aircraft, specifically the Boeing 767 and Airbus A330.
"We're honored to be given the opportunity to build the Air Force's next tanker and provide a vital capability to the men and women of our armed forces," Boeing CEO Jim McNerney said in a statement.
Boeing shares jumped more than 3% in after-hours trading.
The announcement is the culmination of a decade-long process that has been fraught with pitfalls and political pressure as lawmakers lobbied to bring the project -- and resulting jobs -- into their districts.
Both companies estimated the contract would support thousands of jobs, with Boeing planning to build the aircraft in Everett, Wash., and Wichita, Kan. EADS would have based its production facilities in Mobile, Ala.
On Wednesday, Gulf state governors sent a letter to President Obama, saying the contract could significantly boost their state economies, which are reeling from natural and man-made disasters.
But on Thursday, it was Govs. Christine Gregoire of Washington and Sam Brownback of Kansas who won out.
They had sent a letter of their own to Obama, arguing, "We believe this tanker will best meet the Air Force's requirements and prove the best value for the American taxpayer."
Gregoire said in a statement Thursday that it was a great day for "the 11,000 aerospace workers in Washington state alone that will play a role in assembling the NewGen tanker."
In a conference call with reporters, Dennis Muilenburg, CEO of Boeing Defense, Space & Security, said that the program will support more than 50,000 jobs and 800 suppliers spread across more than 40 states.
EADS has the right to protest the Pentagon's decision, but Pentagon officials said Thursday they were confident any appeal would fail. Still, with jobs at stake, there will be political pressure to try and overturn the decision.
"I am deeply disappointed that the EADS team was not selected to build the next air refueling tanker for the Air Force," Sen. Jeff Sessions of Alabama said in a statement. "In light of today's result, I intend to examine the process carefully to ensure it was fairly conducted."
The contract has had a long and convoluted history.
Northrop Grumman and European partner EADS originally won the contract in February 2008. But Boeing protested and the Air Force reversed its decision and changed the requirements for the plane.
Northrop later said it would not bid on a multi-billion-dollar contract to build the tanker because it believed the rules for the contract favored its competitor, Boeing.
After Northrop dropped out, its partner company, EADS, asked the Pentagon for a 90-day extension to file its own bid.
The tankers will replace the aging Boeing KC-135, which first entered service in 1957. About 100 of the oldest "Stratotanker" models have been grounded since 2006 due to age.
Originally needed to keep B-52 nuclear bombers in the air for long periods of time, the Stratotanker quickly found new missions in Vietnam, where it enabled small fighter bombers to strike targets anywhere in the country. It revolutionized the use of air power, and is continuing to play that role in Iraq and Afghanistan.
-- CNN Senior Producer Scott Spoerry contributed to this report