Obama to business leaders: Let's brainstorm jobs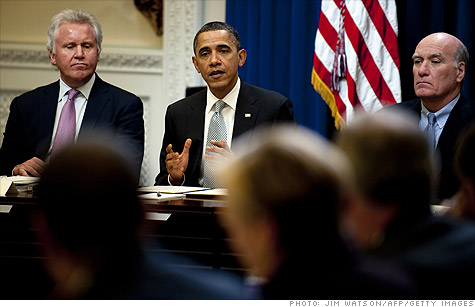 WASHINGTON (CNNMoney.com) -- President Obama called a new team of business and labor leaders to the White House Thursday to brainstorm about how to create jobs and boost the economic recovery.
Taking a business-friendly tone, Obama told the Council for Jobs and Competitiveness he wants them to focus on coming up with new jobs creation ideas. But he also said that he wants to hear from them about where "you think the economy is right now."
"We want to remove any barriers and impediments that are there, but at the same time we want to put a challenge to America's businesses, to take other steps that have been sitting on the shelf for quite some time," Obama said. "We want to make sure we're putting a little pressure on you guys ... so we make sure the economy is working for everybody."
The council replaces the president's former economic advisory team, which had been led by former Fed chair Paul Volcker.
The new jobs council is headed by General Electric Co (GE, Fortune 500). chief executive Jeffrey Immelt and includes a variety of executives, including AOL co-founder Steve Case (AOL) and Intel (INTC, Fortune 500) CEO Paul Otellini.
During the hour-long discussion, executives talked about what they saw as important building blocks to job creation, including an improved education system, better tax policy and less burdensome regulatory changes.
Obama agreed that education and retraining were important pieces of the puzzle.
He said he learned during a meeting with tech executives last week, that a big reason Apple manufactures the iPad overseas is that the United States lacks a workforce of tens of thousands of lower-skilled technicians needed to quickly produce the tablets.
"It's the guy on the ground in the factory constantly tweaking and making sure operations are functioning effectively," Obama said. "When we're talking about skilled labor you have to look up and down the spectrum."
The president also noted that he believes lower wages abroad contribute to companies' decision to manufacture overseas.
Obama explained that his last economic advisory team was more focused on working with the financial sector and pulling the country from a state of crisis. Now it's time to focus on creating jobs.
"The economy is now growing in many sectors," he said. "In many sectors we're seeing recovery. But the biggest challenge we're seeing right now is that unemployment is still way too high across the country."
"What we wanted to do is retool," the president said, noting that creating jobs is the first and foremost task of this council.