Sales of new homes fall a shocking 11.2%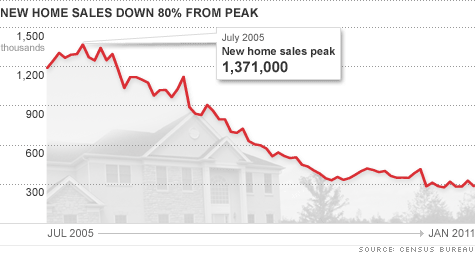 NEW YORK (CNNMoney) -- The new year has brought little cheer to new-home builders: Their sales fell a shocking 11.2% between December and January and 18.6% from 12 months earlier.
The total number of new homes sold in January was a seasonally adjusted 284,000, down from 325,000 in December, the government said Thursday.
In total, the market is down 80% from its peak, which was set in July 2005, when the annualized rate of sales hit nearly 1.4 million.
The big problem facing developers is that they face significant competition from foreclosed homes, which sell at bargain-basement prices. In fact, 26% of all homes sold last year were foreclosures.
"Housing is a price-driven market," said real estate analyst Michael Larson of Weiss Research Investors. "Ordinary home buyers can and will buy houses, but only if the price is right. That makes life tough for new home builders, who have to compete with distressed properties and 'nearly new' foreclosures."
The release followed Wednesday's more positive industry report showing that sales of previously owned homes had inched up slightly during January. A bulk of those sales came from bank repossessions and other distressed properties.
But there is always a market a for new homes because many people prefer a a house that nobody else has used, according to Jeff Mezger, CEO of KB Homes. Plus, foreclosures are often sold "as is" and are in poor condition.
"One of our biggest market segments is single moms, who don't want to have to fix up things," he said. "They look at used homes first. "They look at foreclosures and don't like what they see."
Some progress has been made by home builders in reducing their inventories of unsold homes, according to Brad Hunter, chief economist with Metrostudy, a real estate information provider.
In Atlanta, builders reduced the glut by 35% during 2010. In Tampa, inventory fell more than 17%; in Phoenix, it's down more than 10%.
That absorption may be slow by historical standards, but it does indicate a trending in the right direction.
By the end of January, there were an estimated 188,000 new homes still on the market, the lowest inventory level since December 1967. It's a 7.9 month supply at the current rate of sales, down 1.2 months since last January.
The median price of home sold during the month was $230,600, a 13.3% increase compared to a year earlier.
"If you're looking for signs of a robust recovery in housing," said Larson, "you're just not going to find it anytime soon. Instead, sales, pricing, and construction activity are likely to bounce along the bottom for several quarters."