Secret to pouring 40,000 Slurpees at once? Open 40,000 7-Elevens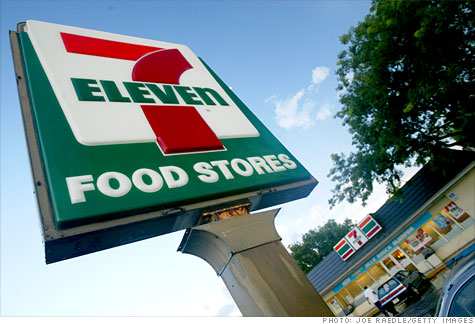 FORTUNE -- Slurpee fans rejoice: 7-Eleven announced Friday that the company has surpassed 40,000 locations, furthering its claim that the convenience store chain now has more retail outlets than any other company--of any kind--in the world. (7-Eleven is really just padding its lead now; it reported becoming the largest chain store in 2007, beating out McDonald's, when it passed the 32,000 mark.)
With a new store popping up almost every three and a half hours, the convenience store operator has no plans to slow down. This year the company says it will open between 2,000 and 2,5000 stores worldwide, and at least 300 through new stores and at least 200 through acquisitions in the U.S. and Canada.
This is a story we've heard before: consumer goods and services company sets off with ambitious plans for expansion. But with very visible examples of brands that have over extended in the U.S., and subsequently been forced to pull back--hello, Starbucks (SBUX, Fortune 500) and McDonald's (MCD, Fortune 500)--this kind of growth can set off alarms. The question becomes: Can 7-Eleven write a different ending to this tale?
7-Eleven executives say the company has significant room to grow before it has to worry about cannibalization--once a big problem for both McDonald's and Starbucks. Carole Davidson, 7-Eleven senior vice president of finance and communications, notes that right now the company operates in only 30 states and 16 countries. "We do our due diligence," she says. "We make sure there's a need for our brand."
Note that while the Big Gulp might seem as American as apple pie, 7-Eleven is now a subsidiary of Seven-Eleven Japan, which is owned by Japan's Seven & i Holdings. The chain does have its roots in the U.S., having started in Dallas, Texas, in 1927.
The convenience store industry has an advantage over other consumer services brands in part because of its emphasis on, well, convenience. About 80% of goods purchased at convenience stores are consumed within an hour, and 60% are consumed immediately, according to the National Association of Convenience Stores. "I have a need, how can I fulfill it--that's what people expect from 7-Eleven," says Jeff Lenard, a spokesman for the NACS.
That means being everywhere is a good thing. While a coffee shop may be trying to give customers a more experiential event, convenience stores are all about speed. Making a customer go a few feet out of their way could mean a lost sale.
Still, BB&T Capital Markets analyst Andrew Wolf says that the convenience sector, after decades of growth, may have reached a point of saturation. With its new appetite for acquisitions, 7-Eleven is acknowledging that it's important to look beyond ground-up store openings. Last year the company launched an M&A group and has already purchased several assets from Exxon Mobile.
7-Eleven also has a conversion program, in which it transforms existing convenience store operators into its brand. "We're actually taking out a competitor when we do that," explains Davidson. The industry in the U.S. is fragmented, she adds, with about 70% of the industry comprised of tiny 10-store-or-less chains, and it's going through a period of consolidation. 7-Eleven may have more locations than any other convenience store in the U.S., but it only makes up about 5% of the industry's store count domestically.
Industry watchers say 7-Eleven and its competitors are going to have to do more than open new stores in order to keep expanding. 7-Eleven's advantage, says Wolf, is that while its scale allows for efficiencies, buying power, and brand awareness, the company is still very nimble for an operation of its size. "What I think is positioning them well in the U.S. is their strategy to adapt to change and to where the convenience store is going," he says.
And where it's going is fresh, he adds. Cigarettes are still the top-selling item at 7-Eleven, as is the case with the overall industry, but the company is working to grow the number of fresh items it sells. (The Japanese parent company already has a strong fresh food business, says Davidson.) Fresh can mean better margins and proprietary products that entice consumers to come into stores. Expect to see more hot foods and bakery items.
Scale also allows 7-Eleven to have a robust private-label program, to the point where the chain has been able to take entire categories of products and only offer them in their own brand, says Wolf. "That speaks a lot of a brand's equity," he notes.
The company differs from its industry counterparts in that while 80% of convenience stores in the U.S. sell fuel, according to the NACS, less than half of 7-Eleven's domestic locations are at gas stations. The quirk can be traced back to early days, when convenience stores didn't have fuel facilities. Doing away with the pump today means that 7-Elevens doesn't always require as big a footprint as their competitors.
That helps the company churn out new locations at such a dizzying speed, analysts are liable to get a head rush trying to keep up.